Pinot Noir is our heartland. It's in our blood.
And because of that, you'll find 6 different Pinot Noir wines in our fold. Each impressive in their own right.
This guide is designed to lift the veil on the wine behind the label, giving Pinot lovers a greater understanding of which of our wines may be best suited to their palates and preferences.
Read on to discover more.
____________________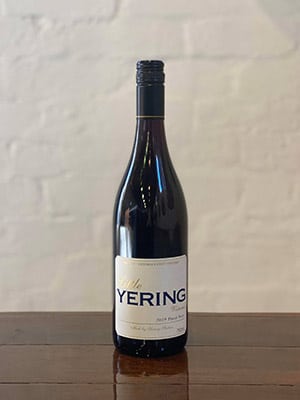 Little Yering Pinot Noir

If you're new to Pinot Noir and don't quite know where to start, then this is the drop for you. A Victorian expression, this wine is made with clean, modern winemaking techniques – making it super fresh and approachable. True to the Victorian style, it offers red cherries and a dash of delicious savoury spice. An easy-drinker, it serves as the perfect weeknight staple to always have on hand at home.
View our current release, available online now.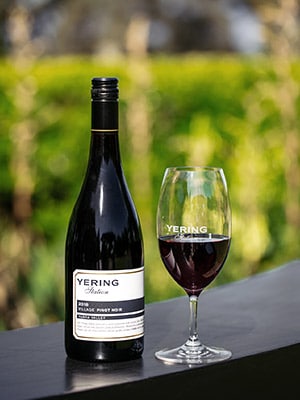 Village Pinot Noir
Moving into Yarra Valley fruit, a large portion of which is grown on our vineyards, this wine expresses what our regional home does best – growing bright, vibrant and juicy Pinot Noir grapes. Think fragrant raspberries, a web of savoury spice and a lick of milk chocolate. A great option for those that are seeking an approachable Pinot to match with autumn-style dinner dishes – from pasta and risotto to duck and lamb.
View our current release, available online now.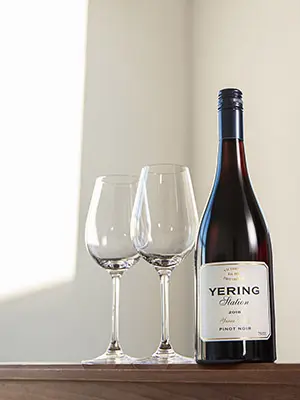 Yering Station Pinot Noir
Yering Station in a glass. If you can't get to our Yarra Valley cellar door, then this is your next best bet. Made with fruit produced from our estate vineyards, this Pinot Noir is the proud definition of our house style. It opens with a perfume of blue flowers, followed by dark cherries and paradise spice. Power, beauty and complexity – all at once. A wine that will never fail to impress at a dinner with good company.
View our current release, available online now.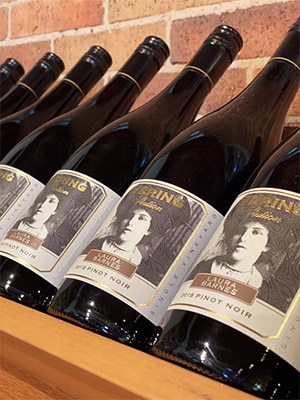 Single Vineyard Laura Barnes Pinot Noir
This one's for all the Pinot lovers looking for something a little left of the traditional centre. Our single vineyard series don't typically represent our house style, but instead showcase our unique terroir in its purest of forms. In this case, you can expect a powerful Pinot that's richer and denser than what you'd normally expect from the variety. Dark fruits, five spice, cardamom, herbs and star anise. A special parcel, it hails from our esteemed Laura Barnes site and is its first single vineyard Pinot release in 20 years.
View our current release, available online now.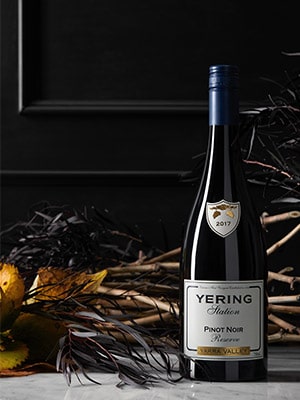 Reserve Pinot Noir
This one's for the collectors. Meet our flagship Pinot Noir. Only made in the best years, using only the best parcels of fruit. This wine wears its label with pride. Its sole ambition is to epitomise time, place and effort of the vintage at hand. Typically a full spectrum of luscious dark fruits, finishing in a fanfare of silky tannins. A special wine for a special someone, or a special occasion – now or in years to come. One that we encourage you to carefully cellar, in this case up to 2030 or longer dependant on personal preference. You can also opt to purchase this style in a beautiful, branded gift box.
View our current release, available online now.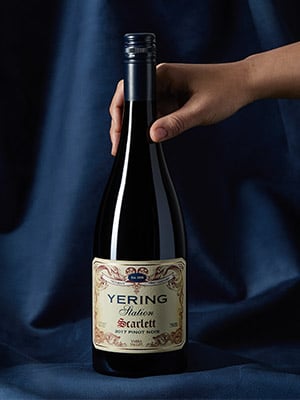 Scarlett Pinot Noir
You've reached the pinnacle of Pinot Noir. A very special label, Scarlett's latest release scored an almost impossible 99-points from wine legend, James Halliday. Scarlett was born out of our pioneering work in the field of precision viticulture, led by the late Nathan Scarlett, which unearthed the small, special patch of dirt where this wine's fruit is grown. An elegant, emotive and entirely seductive wine – to be treasured and savoured.
____________________
The spectrum of Pinot Noir in our portfolio shines as a testament to both our love of the variety, as well as our commitment to expressing the depths of Pinot Noir grown in our cool climate. From light-bodied renditions to fuller expressions, each of our Pinots stand with integrity. And better yet, our panorama of Pinot ensures there's a style in there for everybody to love and appreciate – regardless of your palate and preference.