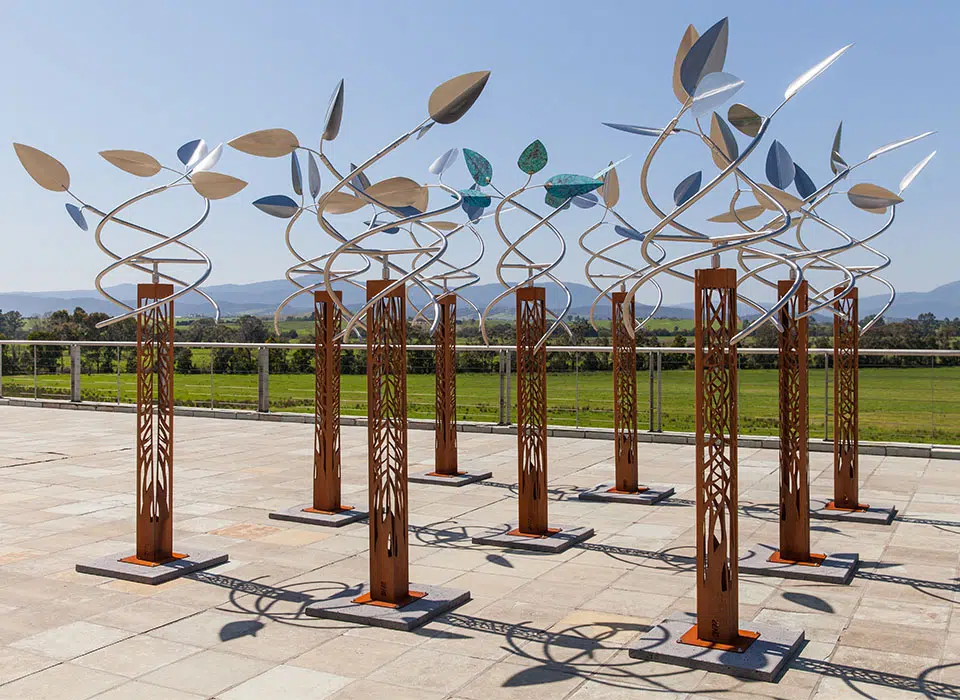 Yarra Valley Arts | Yering Station Sculpture Exhibition
27 February – 26 April 2022
____________________
Our iconic annual sculpture exhibition traditionally shows in Spring as flower buds begin forming on newly awakened vines.
Owing however to the significant challenges of past years, the long awaited 20th anniversary of the Yarra Valley Arts | Yering Station Sculpture Exhibition & Awards will now be celebrated in Autumn 2022.
For the first time in the event's history, the exhibition will coincide with harvest at the winery, with artworks arriving as bunches ripen and the picking begins.
The Opening and Presentation of Awards is scheduled for 27 February, when the crushing, fermenting and barreling is well underway.
So as Victoria fully emerges from its marathon of lockdowns, and as the estate's rolling vineyards slowly turn from green to gold, we invite you to explore the contemporary gardens and architecture of Yering Station and the historically significant gardens of Chateau Yering Hotel, across which sculptures by established and emerging Australian artists will be on display.
All sculptures are for sale – so you may well find that special piece for your own home and garden – and commissions on sculpture sales are donated to My Room Children's Cancer Charity and Yarra Valley Arts, towards the support of community arts events in the region.
Also taking place in the Yarra Valley in autumn will be an Indoor Sculpture Exhibition at YAVA Gallery and Arts Hub in Healesville, the annual Yarra Valley and Dandenong Ranges Open Studios, while collaborative duo Wona Bae and Charlie Lawler from Melbourne's Loose Leaf Studios will bring their immersive, organic, concept-driven art to Yering Station's historic winery.
Until then, we wish you well, and look forward to seeing you in the valley for a very special autumn of art and wine!