Our historic cellar door with its rustic charm, high ceilings and whitewashed brick walls operates as both a tasting room and an art gallery. We exhibit the works of both established and emerging Australian artists in all art forms. Exhibitions are located in the Main Gallery on the ground floor and in the Winery Viewing Gallery, with exhibitions rotating every four to six weeks. A selection of outdoor sculptures are also on display in the gardens and on the Sculpture Terrace overlooking the Yarra Ranges.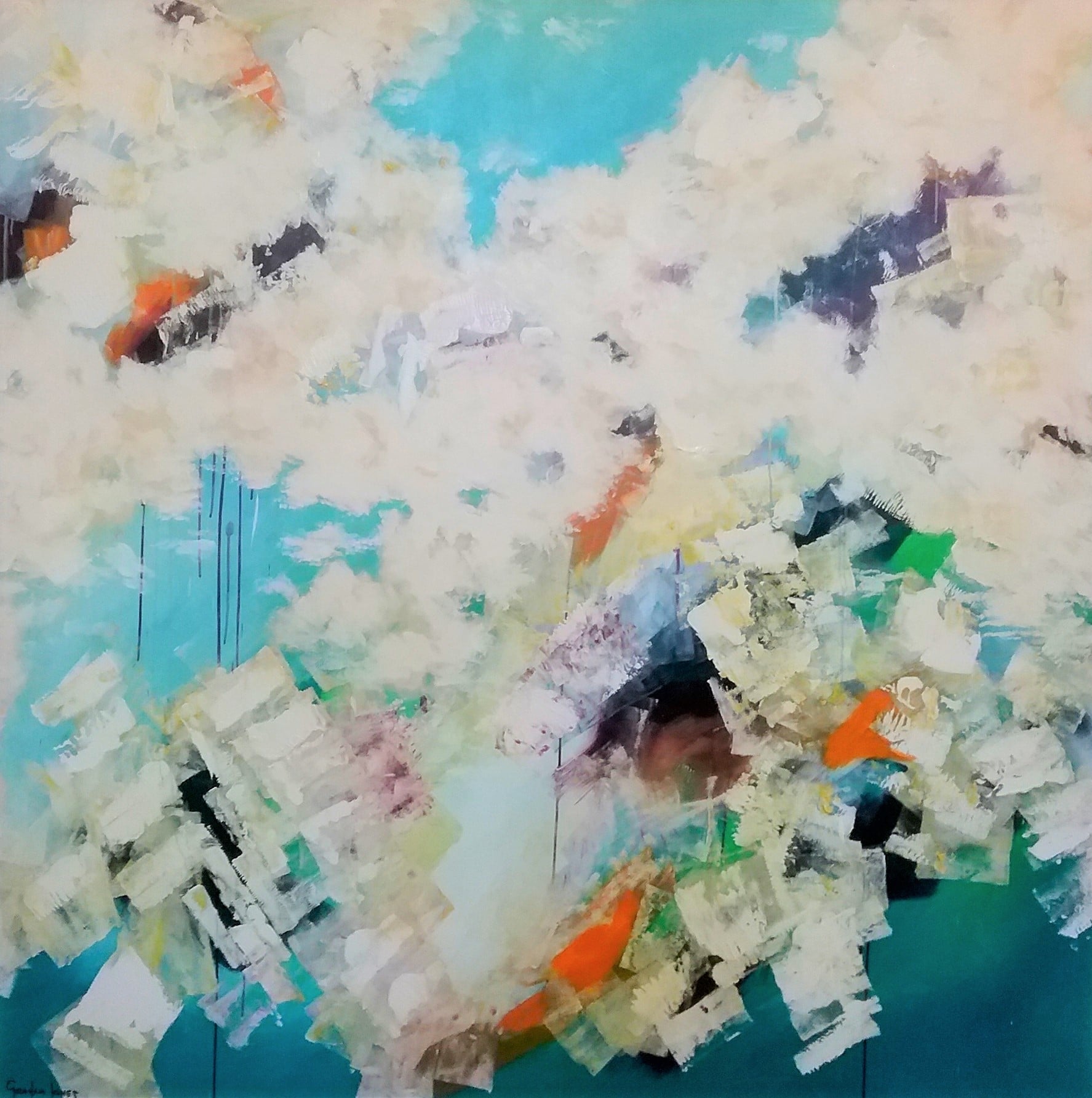 Current Exhibition in the Main Gallery Contrary States | Graham Jones
23 January – 1 March 2021
Please join artist Graham Jones, curator Dr Ewen Jarvis and friends for the launch of Contrary States 3.30 pm Saturday 23 January at Yering Station Art Gallery 
During Melbourne's marathon COVID-19 lockdown, Australian abstract painter Graham Jones found himself delving into two opposing hemispheres of human experience. Influenced in large part by the reality of enforced isolation along with the geopolitical tensions that the pandemic heightened and shaped, the creative process Jones entered involved grappling with emotional, mental, physical and social challenges and changes.
Contrary States is the result of these entangled elements in flux: an exhibition of aerial abstractions that, like the hemispheres of the sky, divide the gallery in equal halves, with one hemisphere reflective of exuberant new life, while its opposing half echoes experience, constriction, and ongoing cycles of renewal from decay.
It is within the latter hemisphere that we find the epic canvass I Can't Breathe, which combines autobiographical overtones in visually representing a heartfelt expression of empathy, while on the opposite wall the sublime and gardenesque Ascension – 02 draws viewers towards a sense of openness and light, an effect that puts us in mind of certain Classical Chinese landscapes, in which mountains are piled up loosely and seem to be perpetually topping their own summits.
Thus, we are borne from the airy and expansive to the suffocating and enclosed, back and forth, up and down, through markings and erasures, illuminations and oubliettes, connections and separations, opportunities and threats, and yet we remain free to navigate our own imponderable flight paths and to seek out our own connections and reconciliations.
Originally from the Victorian town of Numurkah, Jones's, who now lives on the Mornington Peninsula with his wife and works out of Mornington's Southern Buoy Studios and Gallery, has pursued an impressive creative career encompassing music, writing, architecture, design and painting. His work is currently held in upward of eight Australian galleries, and he has had considerable success as an artist in the United Arab Emirates and also in France where he has been selected three times as Artist in Residence at Chateau d'Orquevaux, Champagne-Ardenne. Contrary States is Jones's second exhibition at Yering Station Art Gallery following on from his 2019 exhibition Crooked Roads to Forgotten Places.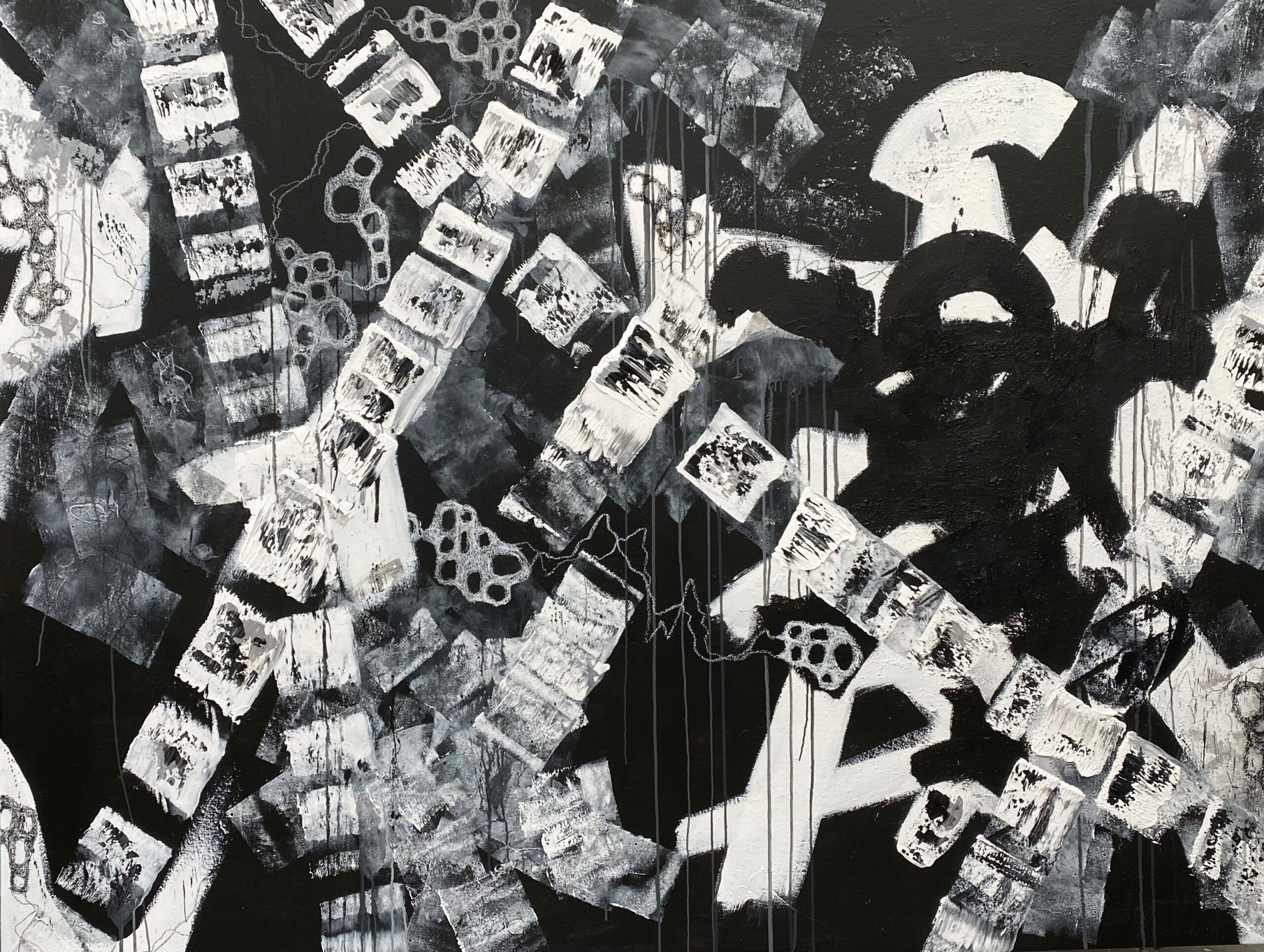 Can't Breathe, acrylic on canvass, 180 x 232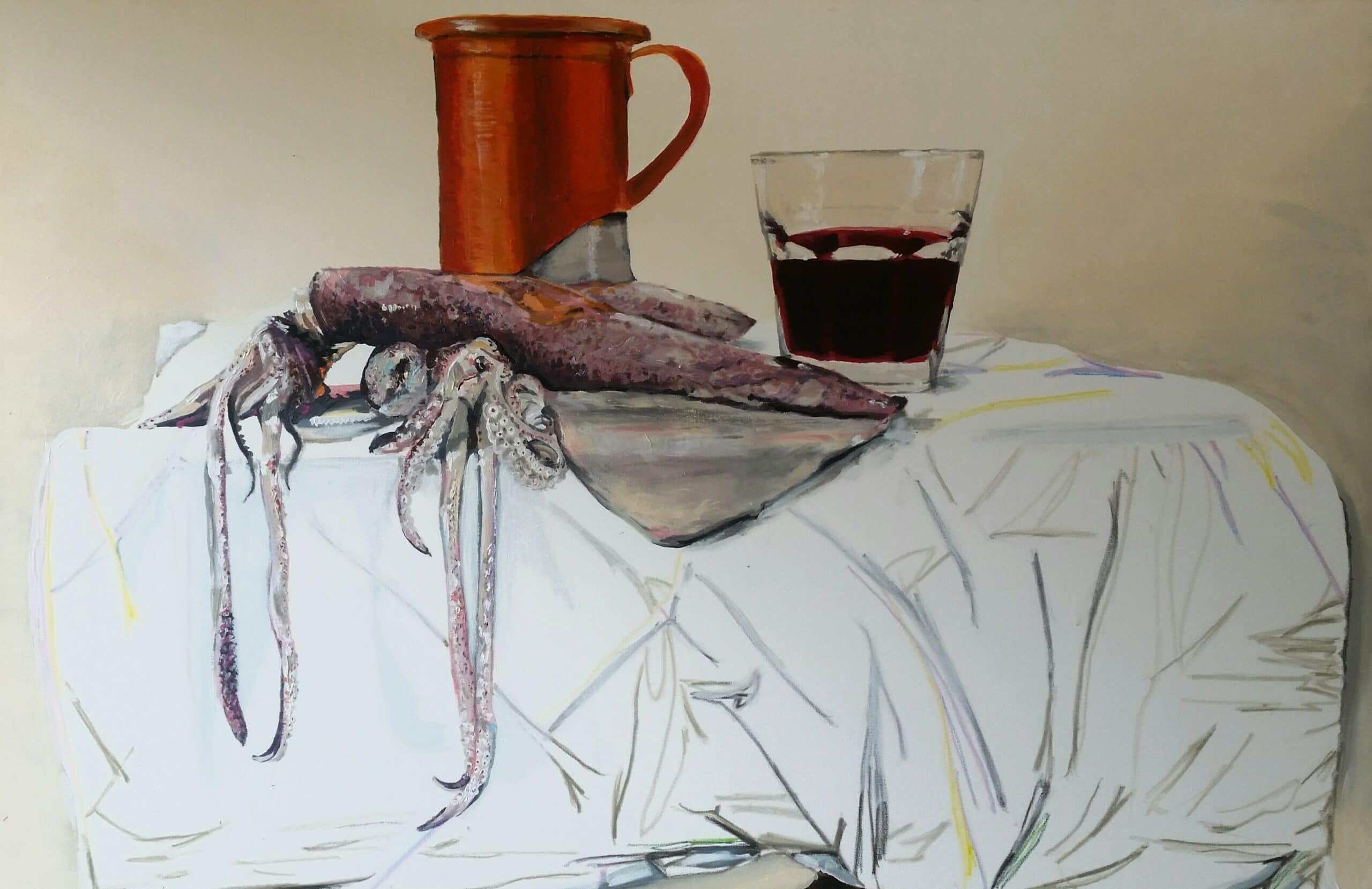 Still Life with Kalamari, Acrylic, oil pastel on canvas, 50 x 100 cm
Current Exhibition in the Winery Viewing Gallery
Kali Orexi | Ben Fuog
Until 28 February 2021
Kali Orexi pays homage to the sea, the sun and the bounty of the earth. It speaks of a way of life in which the pleasures of the table set the pace for the entire day, while openly embracing the culture of mainland Greece and the Greek Archipelago.
Born in Melbourne, Ben Fuog now divides his time between the city of his birth and Athens. He studied Illustration and Fine Arts (painting) and Graphic Design and has exhibited both nationally and internationally. Fuog has also been a Blake Prize Finalist and a Semi-Finalist in the Doug Moran National Portrait Prize on several occasions.
Gardens & Sculpture Terrace
The Michael McCoy designed gardens and Robert Conti designed terrace provide ideal sites for works by some of Australia's most accomplished sculptors.  Across the summer Yering Station are delighted to present works by Jane Bennetts, Maria Coyle, Ernst Fries, Martin George, Rudi Jass, Bill Ogilvie, Brian Paulusz  and Michael Sibel.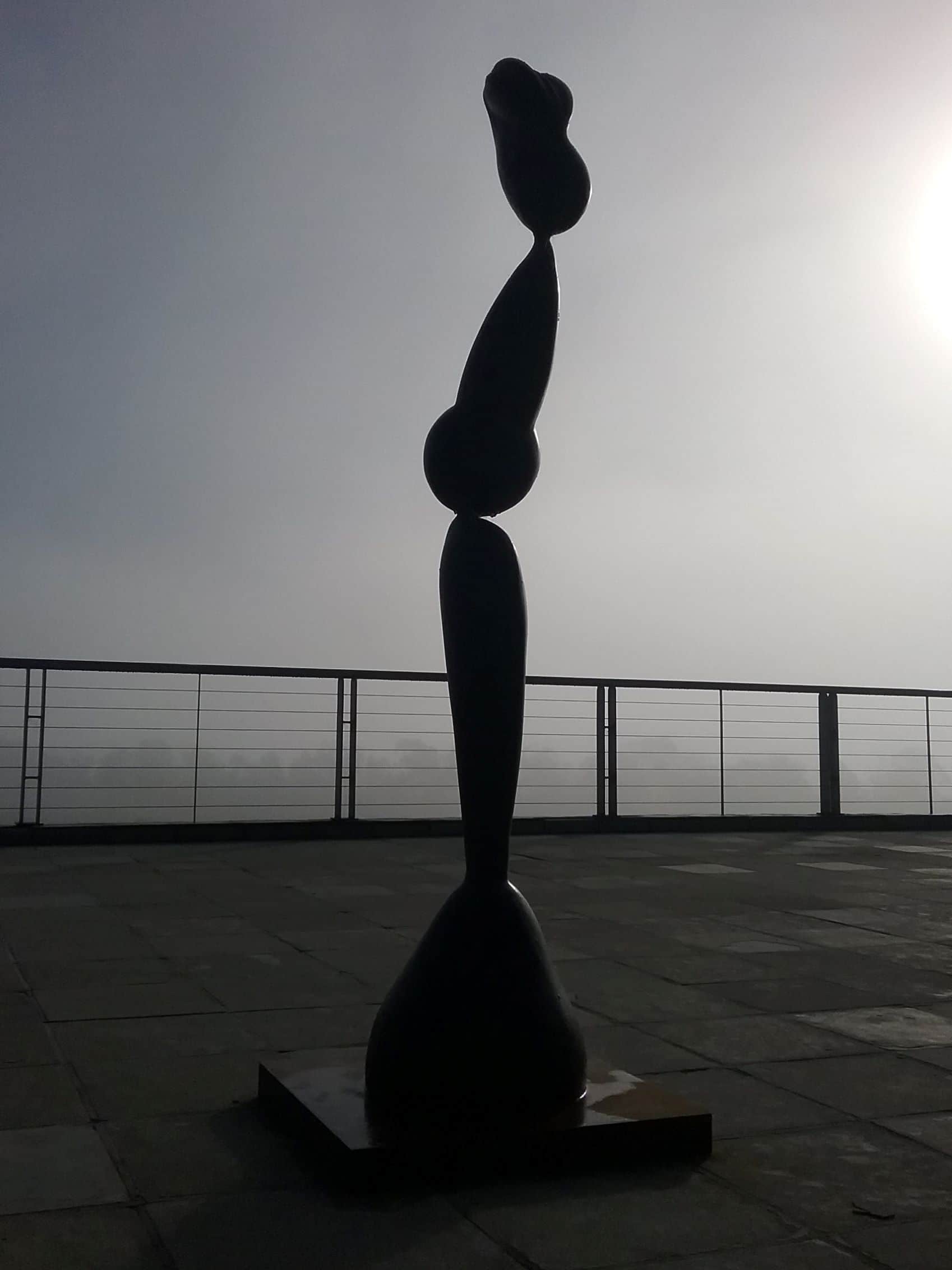 Michael Sibel, Black Bud, bronze, 200 x 65 x 65 cm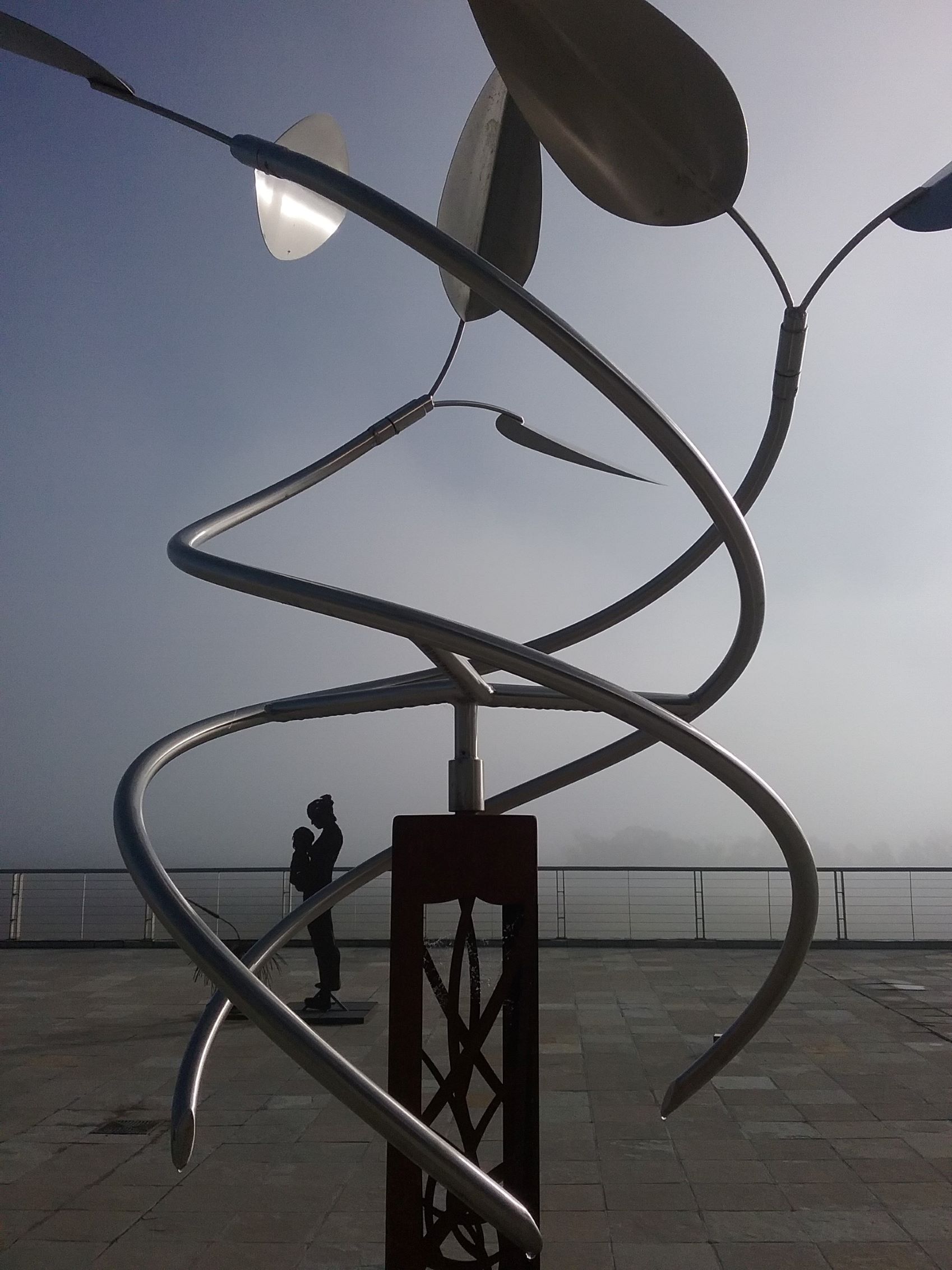 Rudi Jass, Plantation, Corten steel, stainless steel, brass, bluestone, bearings, 300 x 300 x 270 cm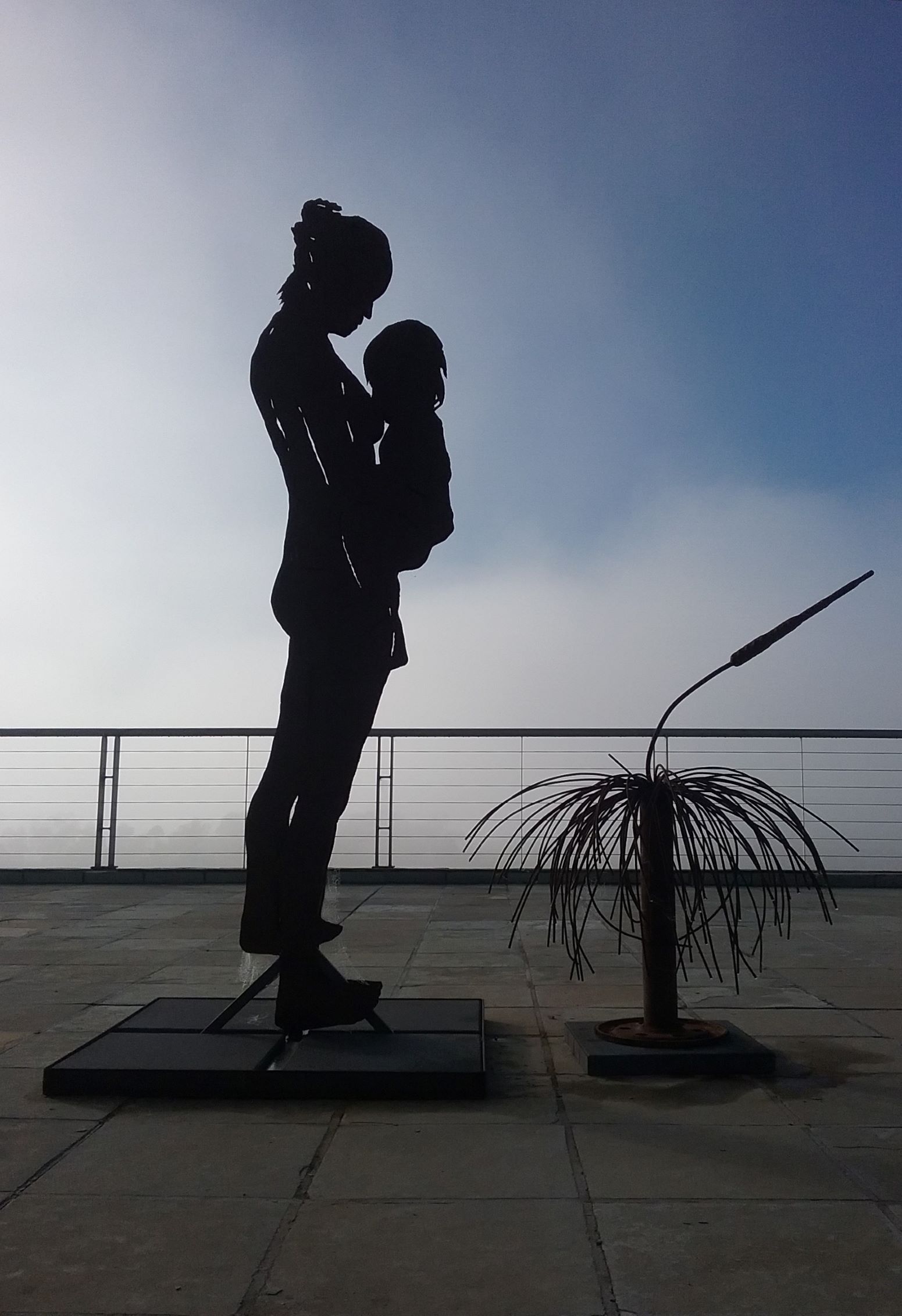 Jane Bennetts, Resilient (Xanthorrhoea, mother and child), Steel, 180 x 150 x 50 cm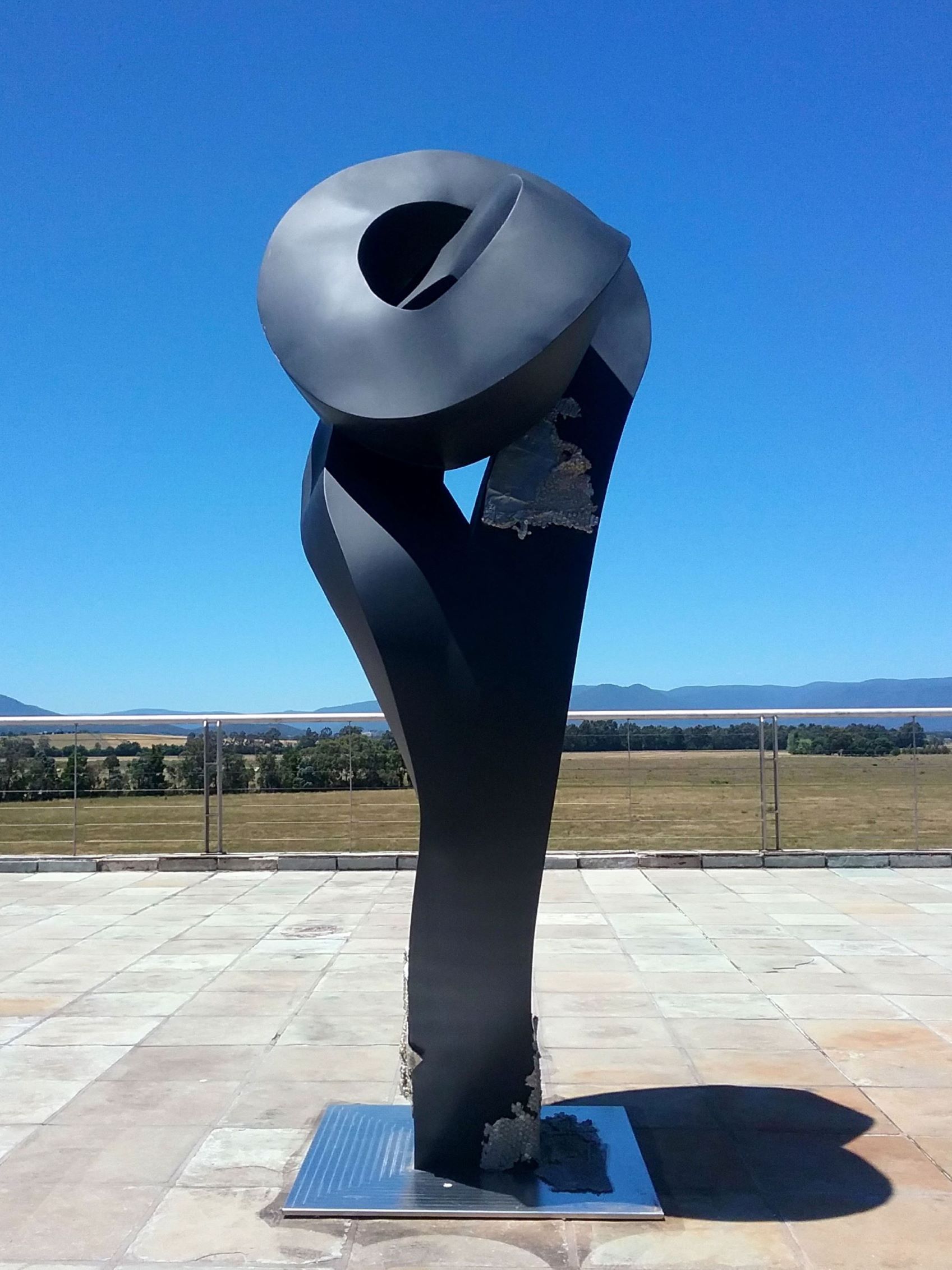 Martin George, My Girl's Up the Duff, stainless steel, pewter, paint, 270 x 120 x 120 cm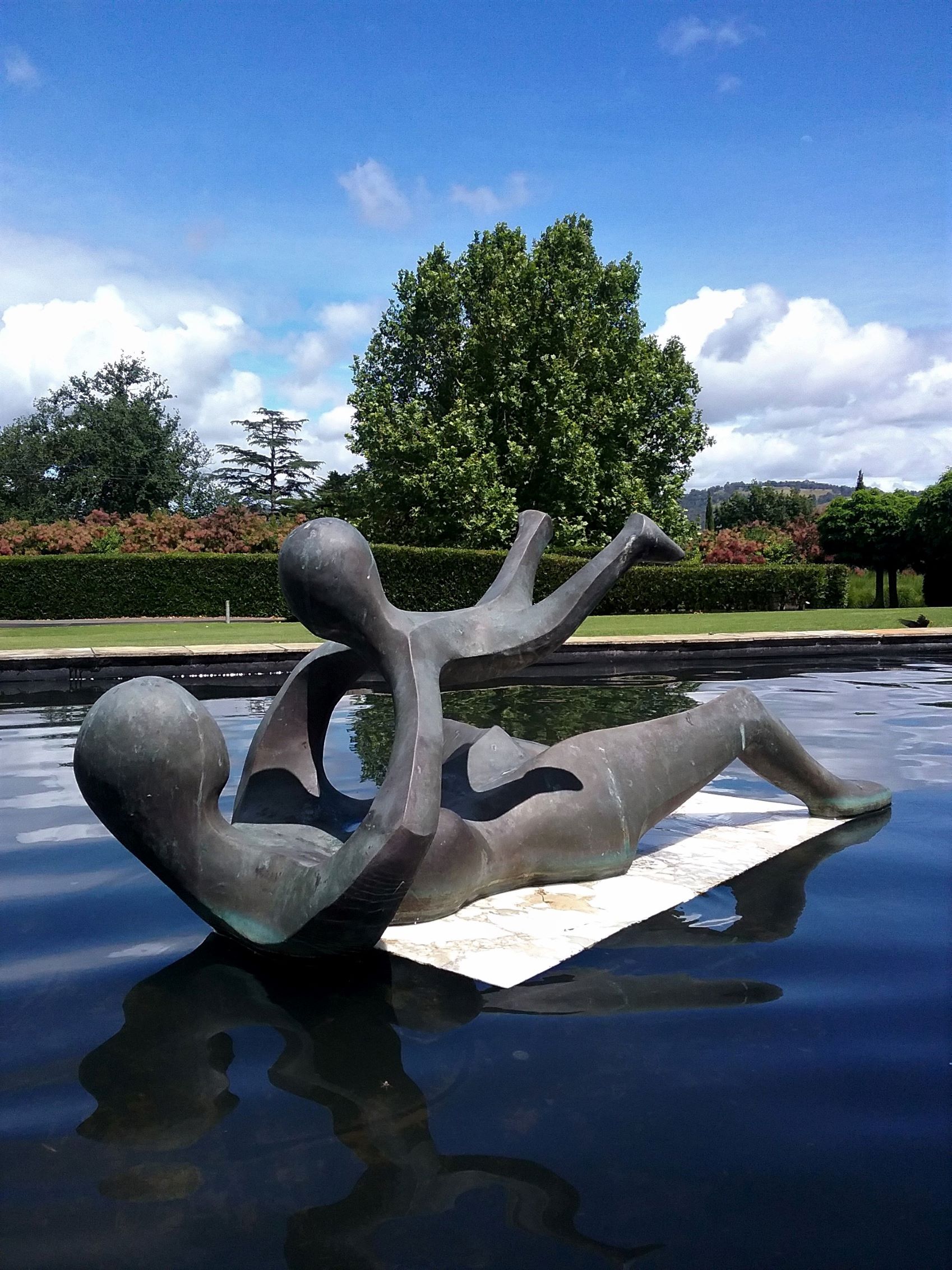 Bill Ogilvie, Little Miracle, bronze, marble, 80 x 170 x 110 cm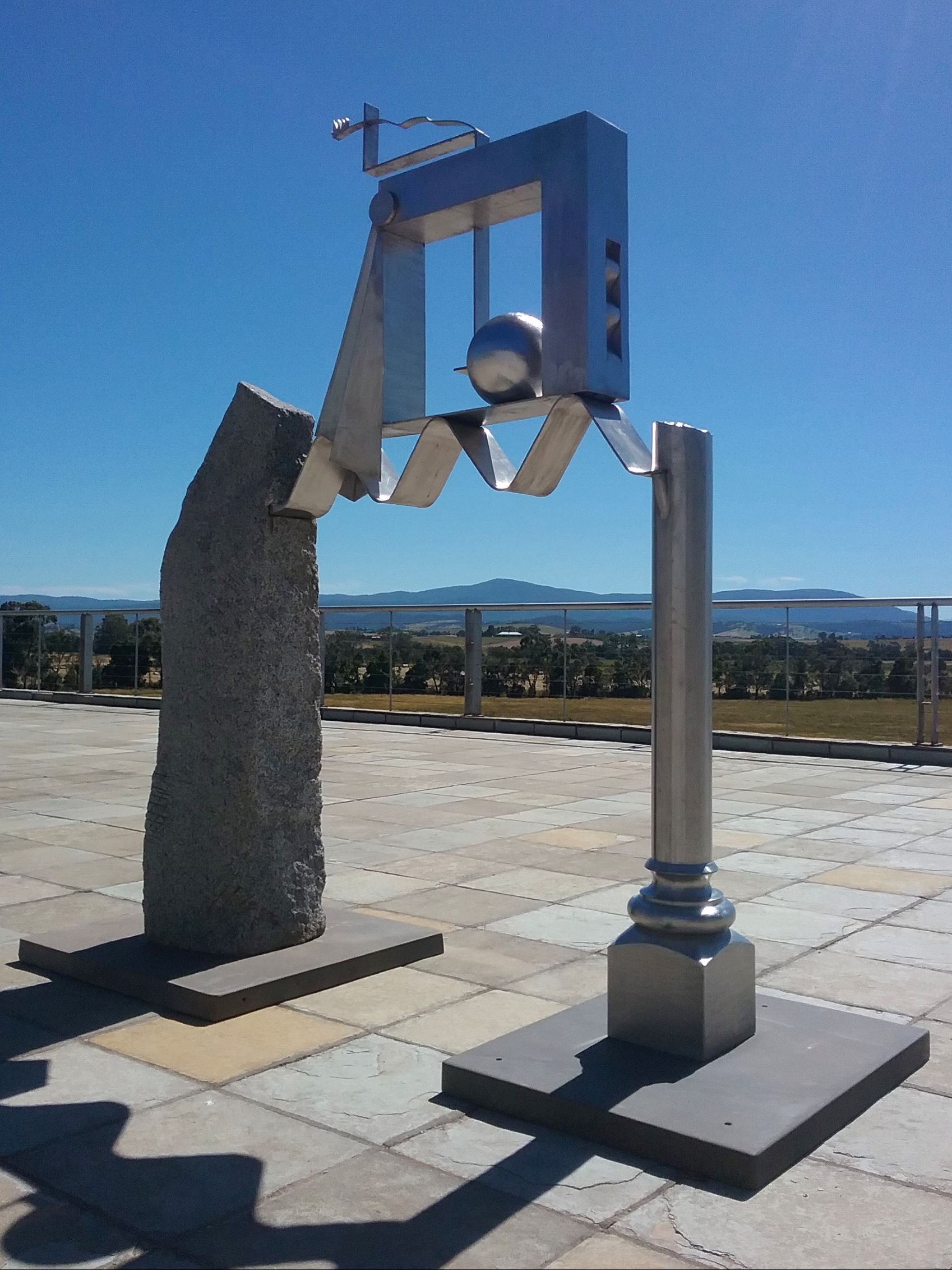 Ernst Fries, Culture Window, granite, stainless steel, 200 x 156 x 30 cm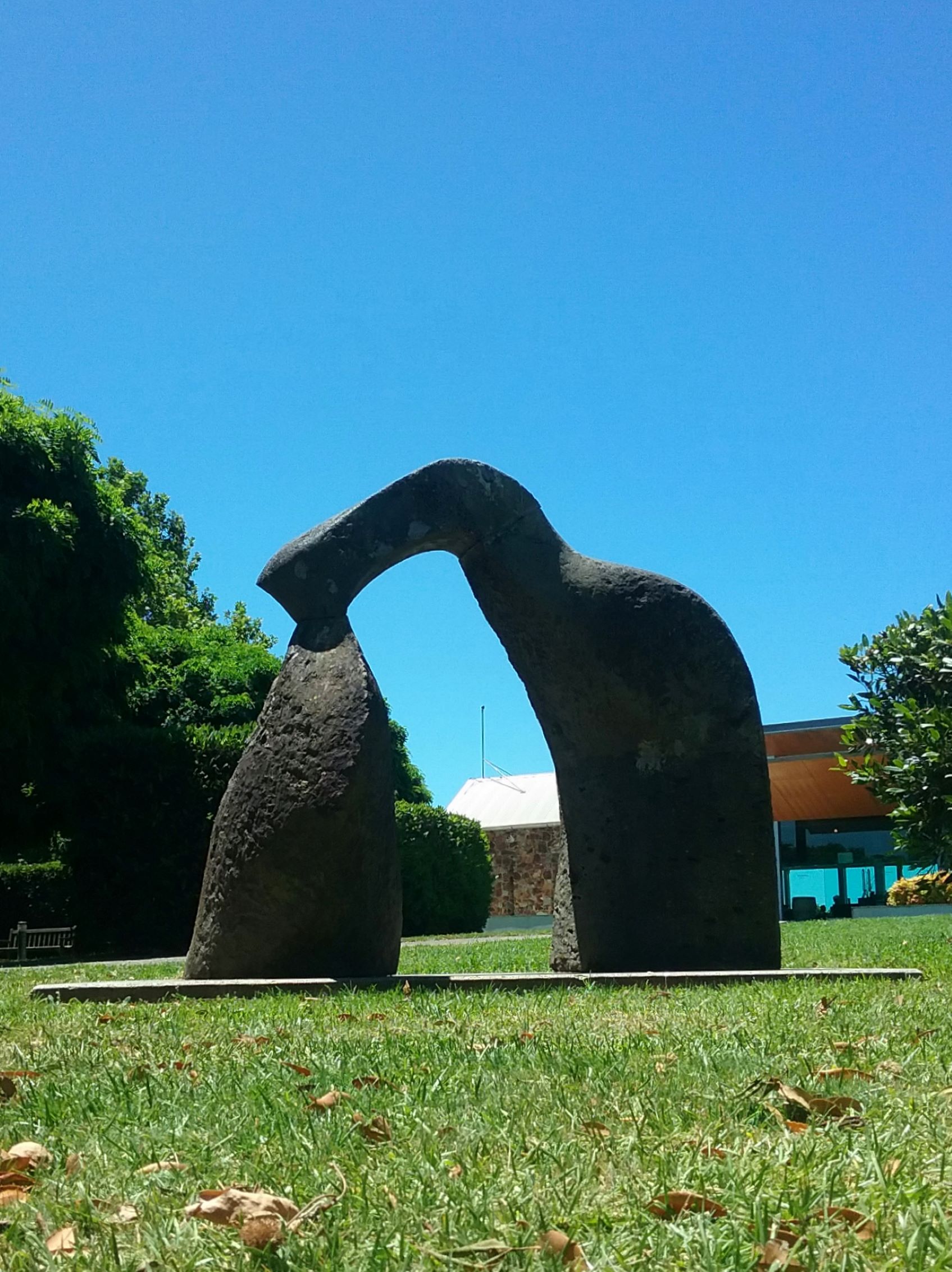 Brian Paulusz Children's Entrance, Basalt, 150 x 170 x 70 cm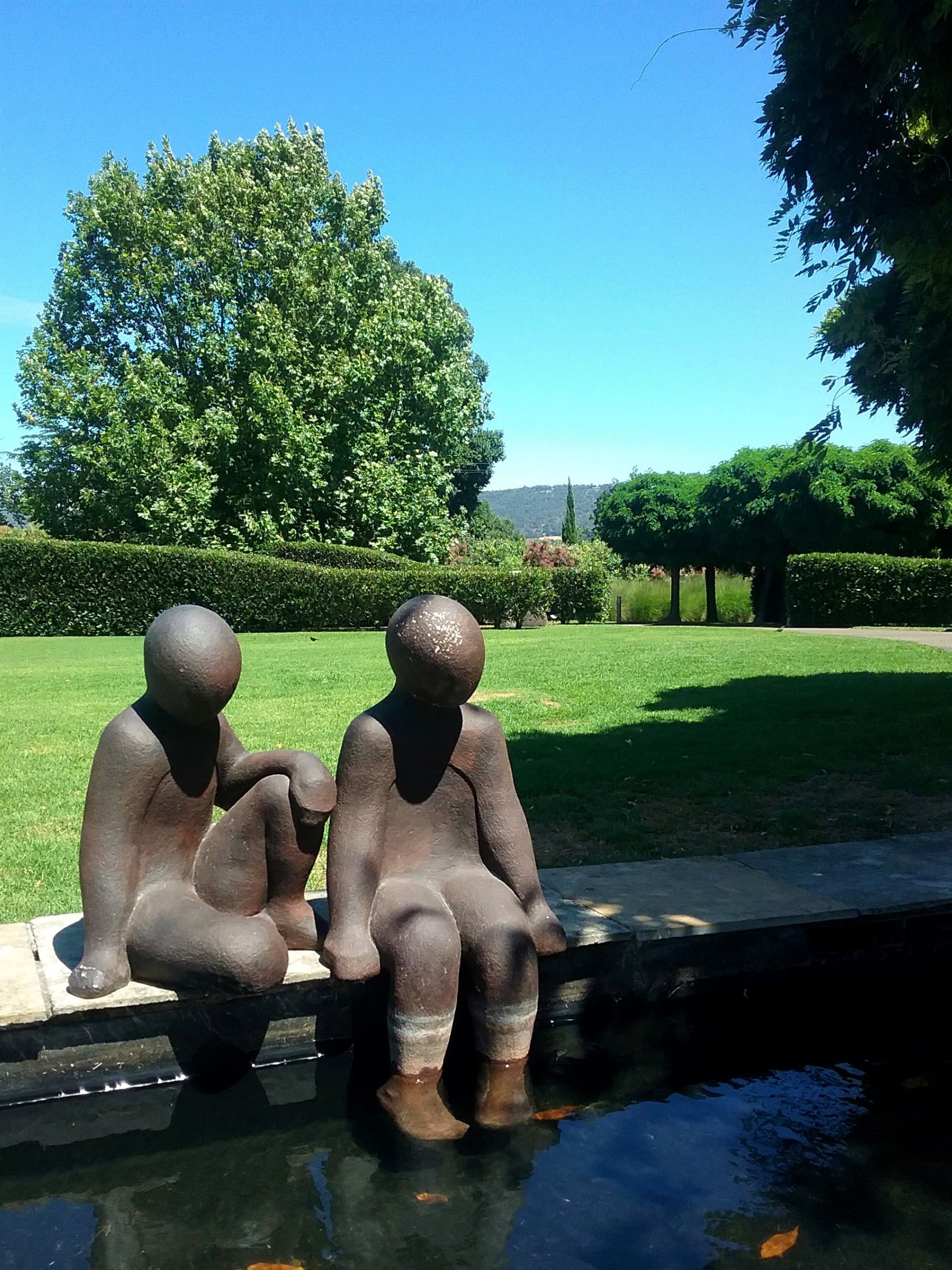 Maria Coyle, Children Chatting, ceramic, variable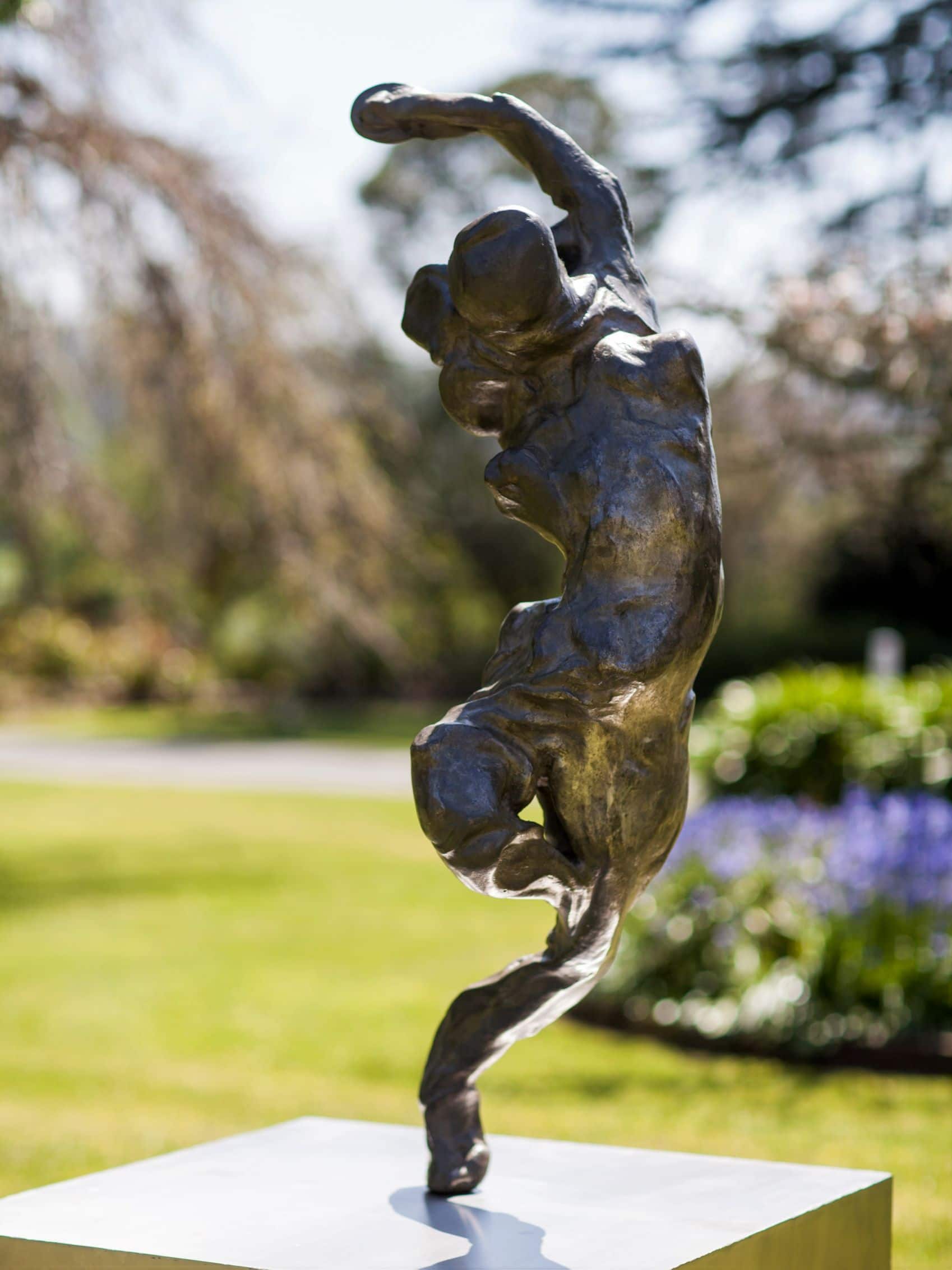 Emmy Mavroidis, Run Like This, bronze, stainless steel, 130 x 70 x 70 cm
Yarra Valley Arts | Yering Station Sculpture Exhibition & Awards
Each year, we also celebrate and host the Yarra Valley Arts / Yering Station Sculpture Exhibition & Awards, which runs from late October through to early December. This event has a long history of showcasing an outstanding cross section of contemporary Australian sculptural practice. During this period, a beautifully curated exhibition of sculptures extends across our grounds and through the restaurant and winery building. All commissions from sales associated with Yering Station's Arts Program are donated to My Room Children's Cancer Charity. This years' Sculpture Exhibition is regrettably cancelled due to COVID-19. We are, however, delighted to announce that the 20th anniversary of the sculpture exhibition at Yering Station has been rescheduled for the spring of 2021, exactly twenty years on from the launch of the first show in 2001.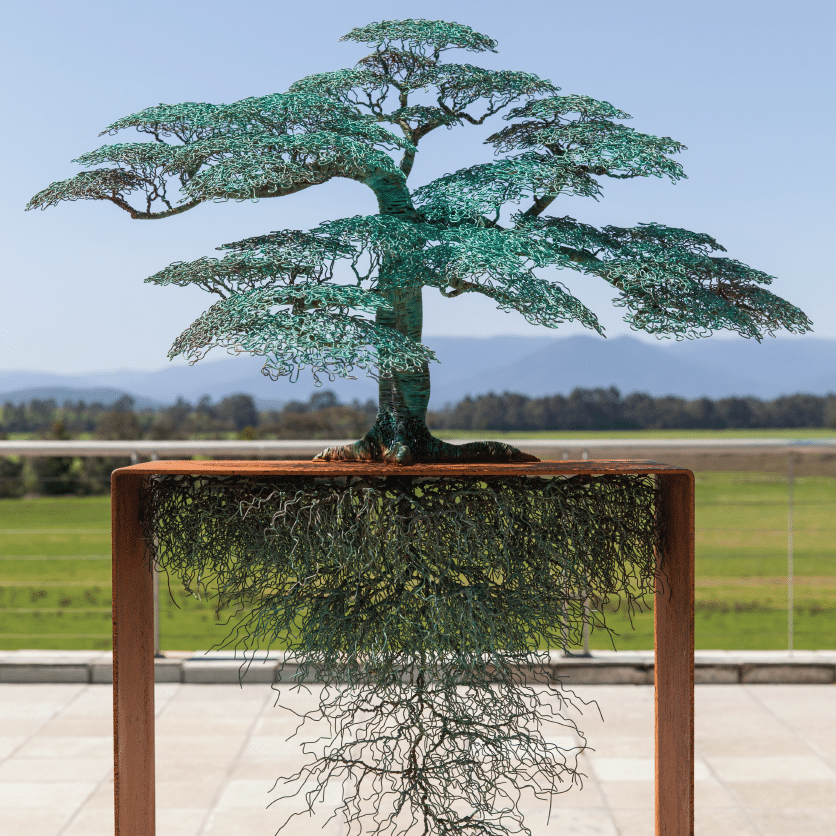 Ulan Murray, Sacred Ficus, copper, Corten steel, stainless steel, 180 x 100 x 50 cm
As is entirely fitting for an annual event that has showcased new works by so many outstanding Australian sculptors since its inception, we are planning a truly memorable 20th anniversary celebration at Yering Station. We are also introducing some new opportunities for sculptors. At this stage we can reveal that the Sculpture Exhibition Event Launch, formerly hosted with generosity by long term sponsor Arnold Bloch Leibler, will for the first time be celebrated at YAVA Gallery & Arts Hub, Yarra Valley Arts' exhibition space in Healesville.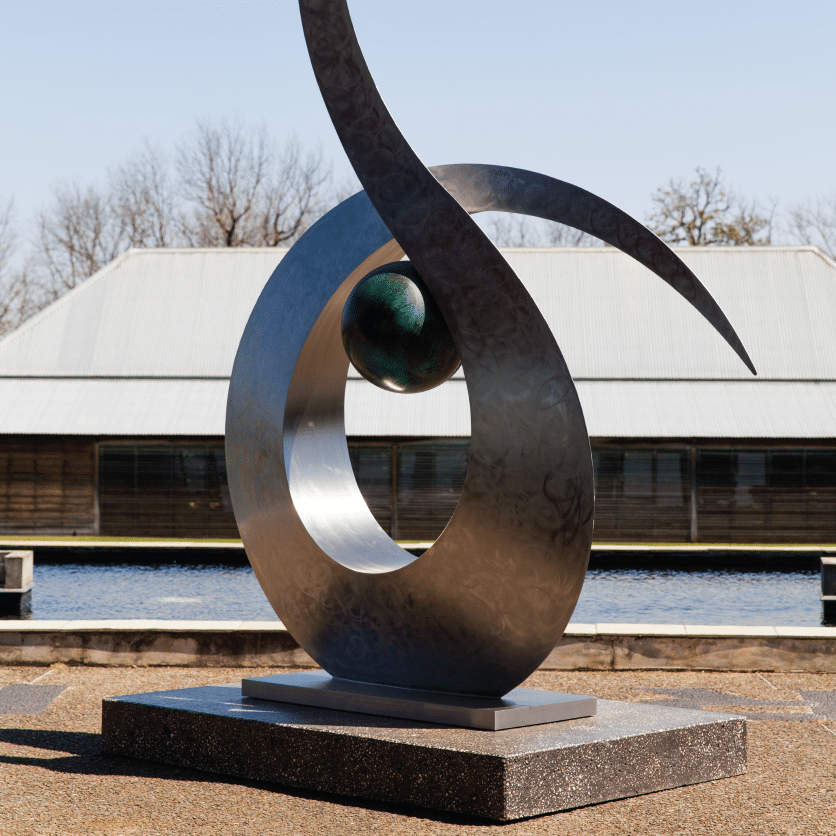 Ben Fasham, Entwined, stainless steel, bronze, 347 x 240 x 150 cm
We can also reveal that, alongside the 20th anniversary exhibition at Yering Station and the concurrent exhibition at Arnold Bloch Leibler, we will be launching an inaugural small-sculpture exhibition at YAVA to coincide with the broader event launch. For more details click here.
Applications for the Yarra Valley Arts | Yering Station Sculpture Exhibition & Awards 2021 can be downloaded from Yarra Valley Arts and YAVA.
Images at top and bottom left: Michel Canetti, various artworks from Femmes | Portraits and Nudes, 2019
For more information about our arts program please contact artgallery@yering.com or call 9730 0102