Current Exhibition | Main Gallery
Heading Out, Coming Home
ANDREA KIRKHAM-HOPGOOD
Scheduled for 21 August – 20 September
ON SITE EXHIBITION POSTPONED UNTIL THE LIFTING OF VICTORIA'S COVID-19 LOCKDOWN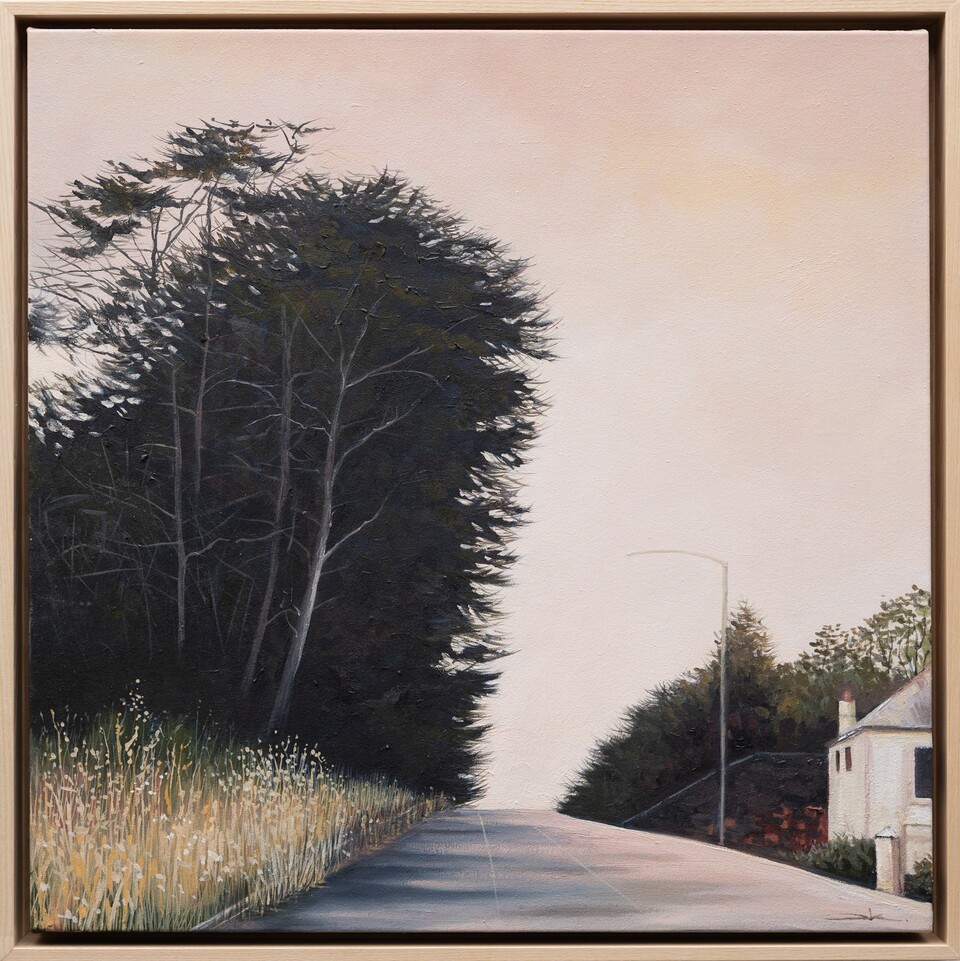 Andrea Kirkham-Hopgood, Coombe, oil on canvas, 65 x 65 cm, $1,300 SOLD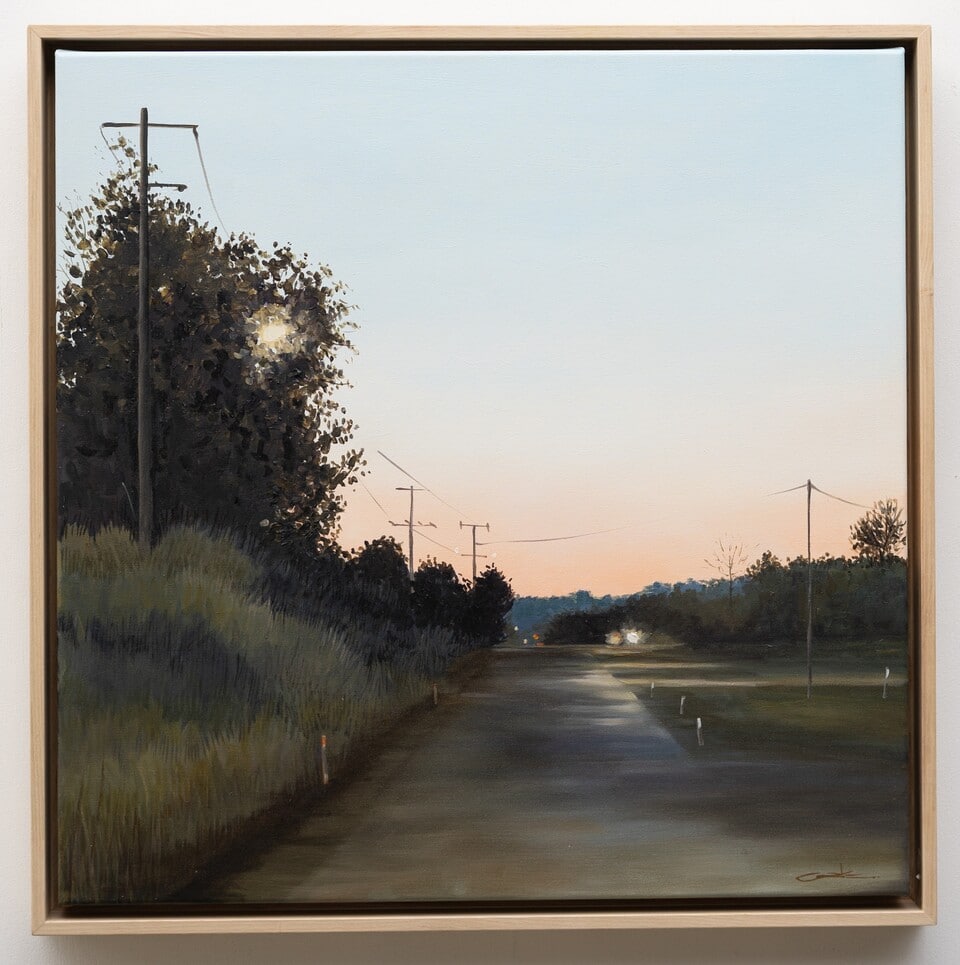 Andrea Kirkham-Hopgood, Coming Home, Buchanan Rd, oil on canvas, 65 x 65 cm, $1,300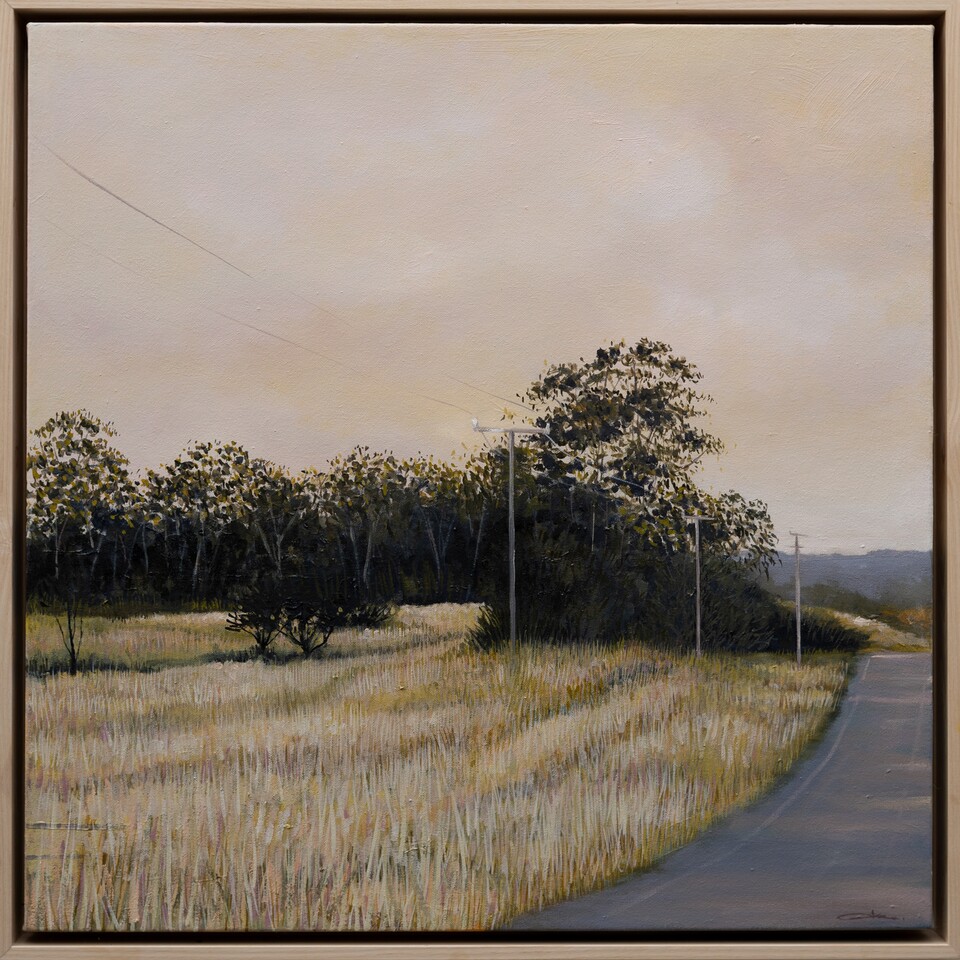 Andrea Kirkham-Hopgood, Eastern Golf Club, oil on canvas, 65 x 65 cm, $1,300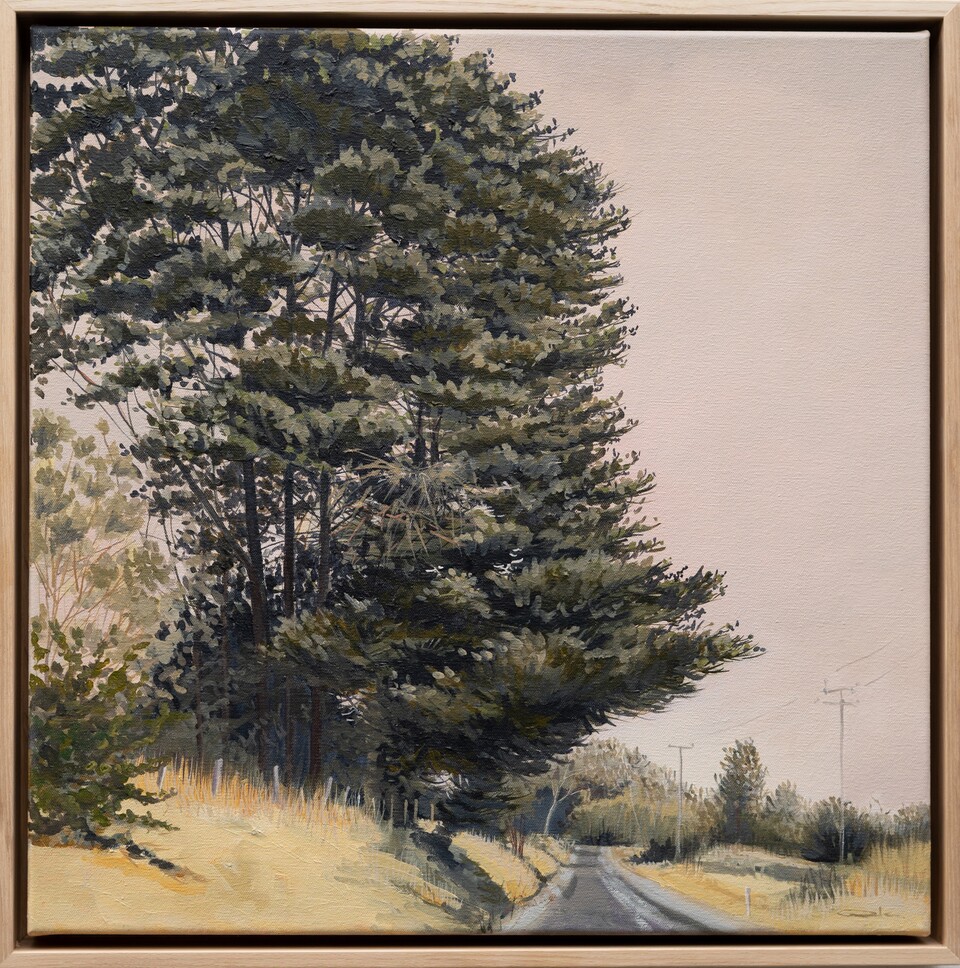 Andrea Kirkham-Hopgood, Harkaway Rd, oil on canvas, 54 x 54 cm, $1,200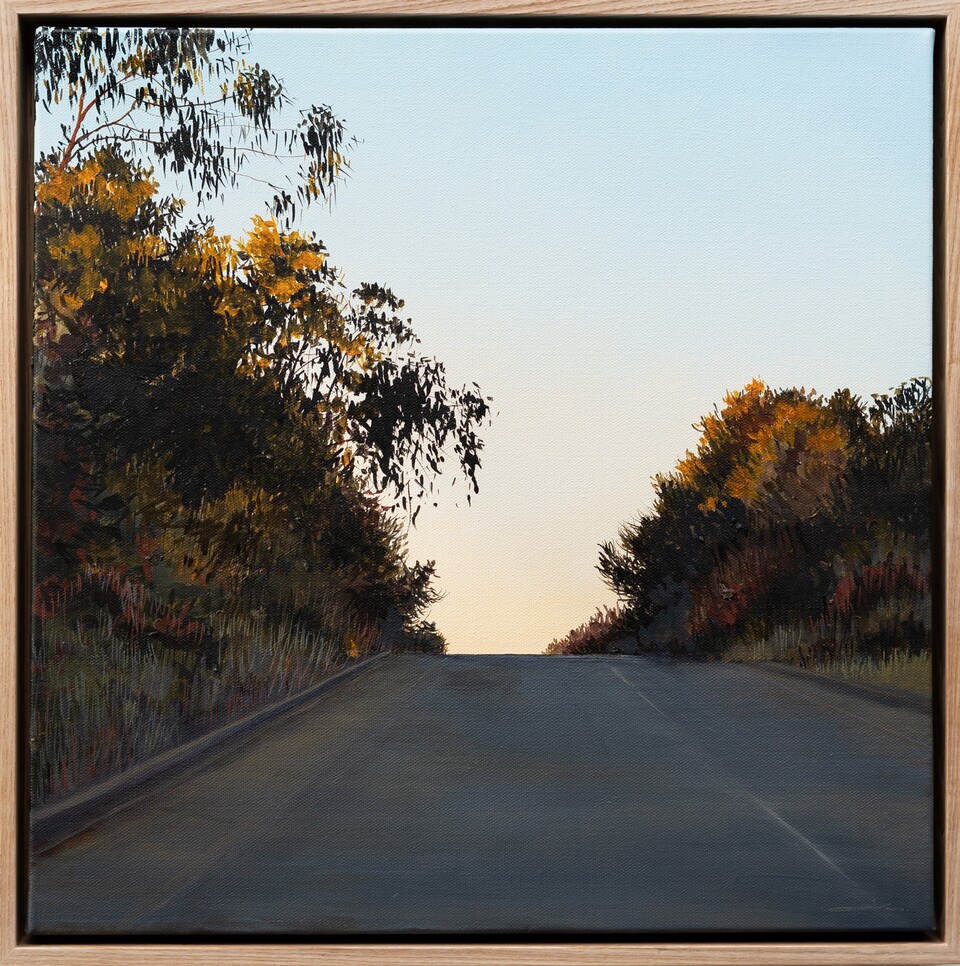 Andrea Kirkham-Hopgood, Homeward Bound 1, oil on canvas, 49 x 49 cm, $1,000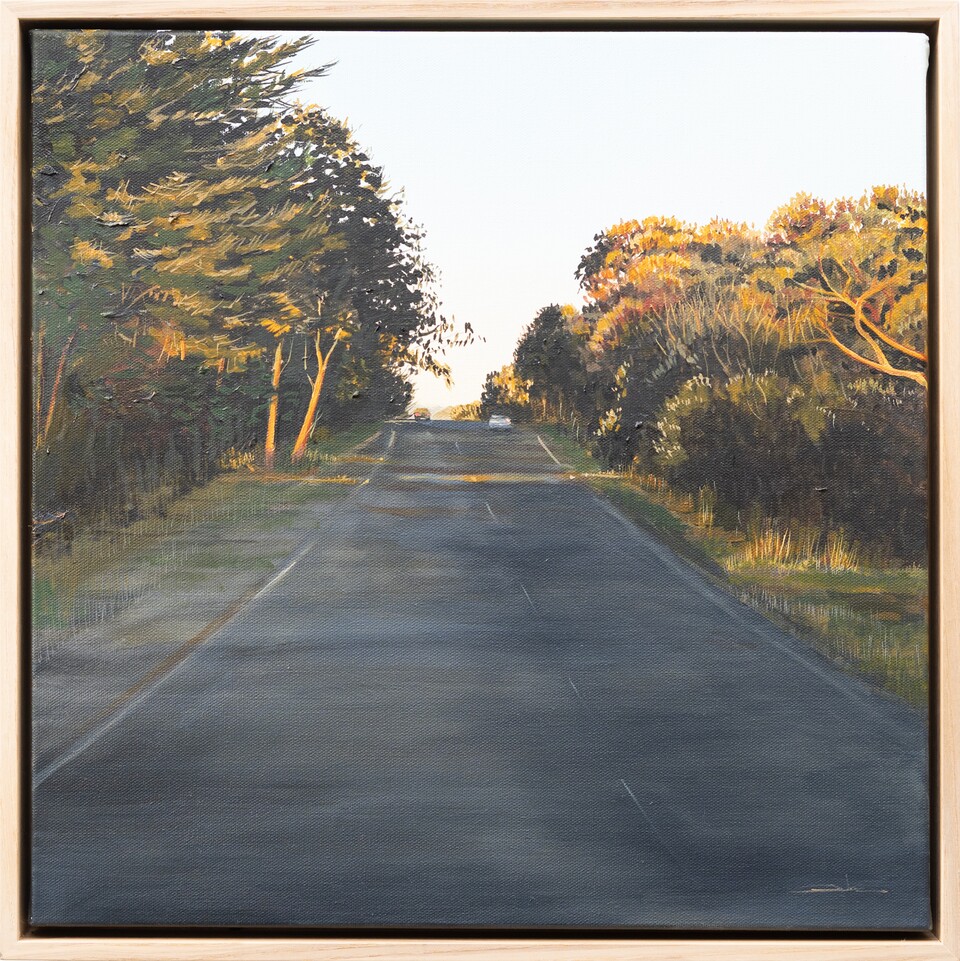 Andrea Kirkham-Hopgood, Homeward Bound 2, oil on canvas, 49 x 49 cm, $1,000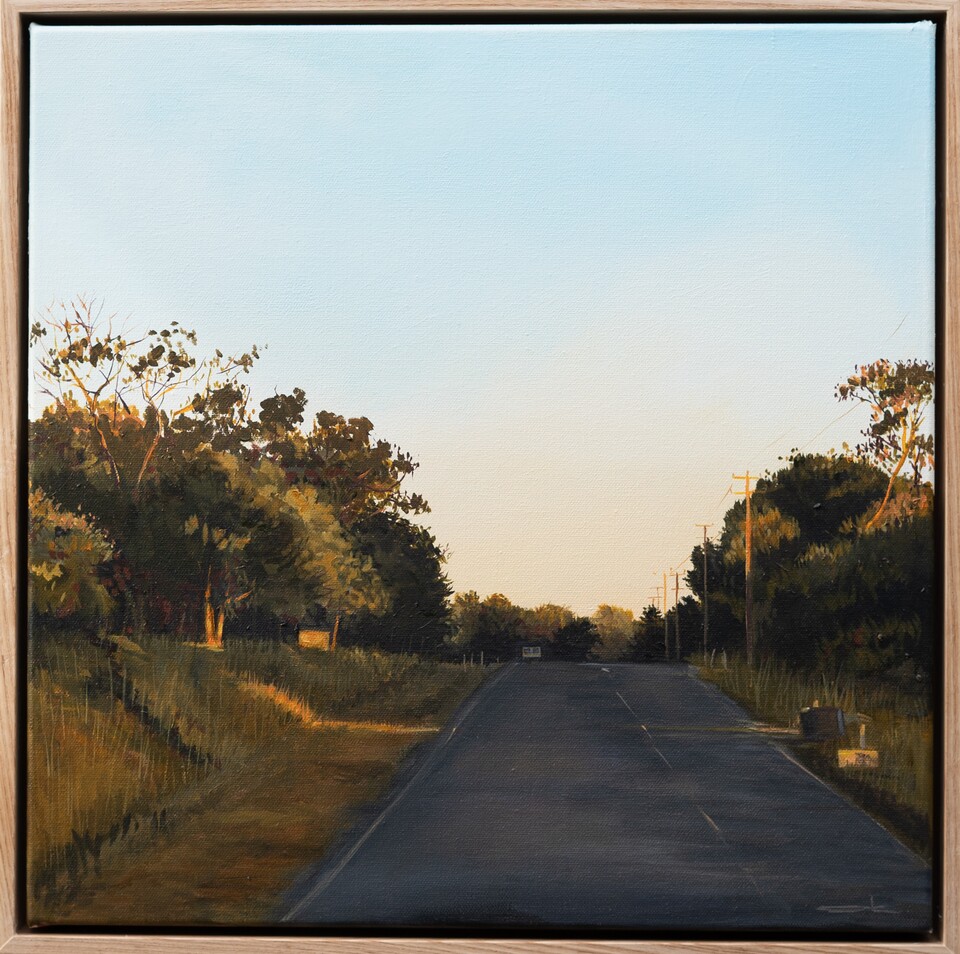 Andrea Kirkham-Hopgood, Homeward Bound 3, oil on canvas, 49 x 49 cm, $1,000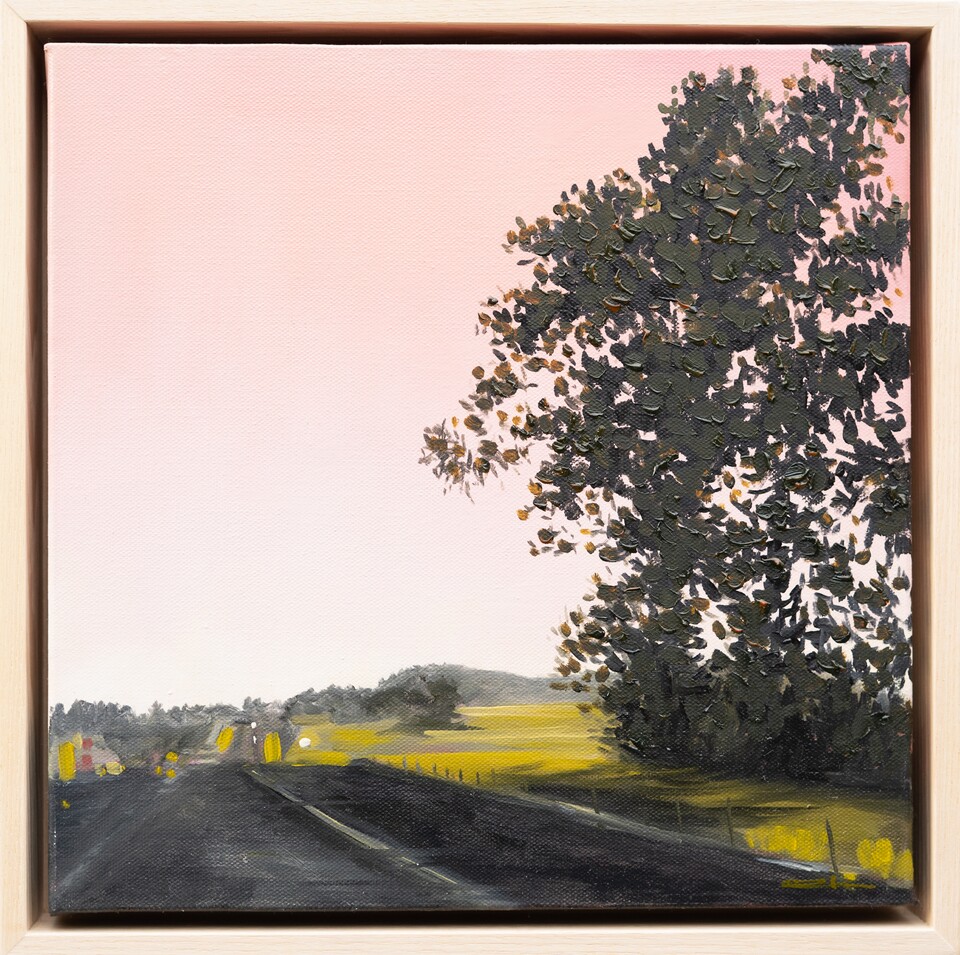 Andrea Kirkham-Hopgood, Kalkalo In Pink, oil on canvas, 34 x 34 cm, $600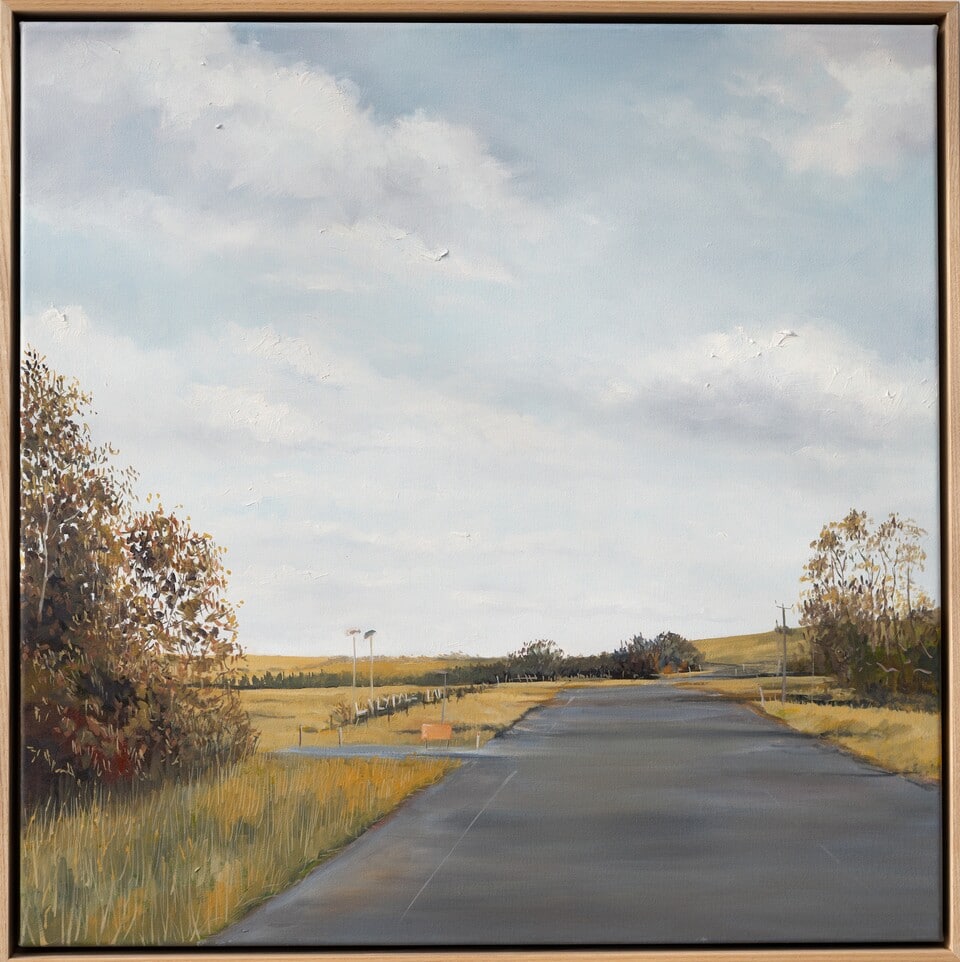 Andrea Kirkham-Hopgood, Lily and Dale, Turf Farm, oil on canvas, 65 x 65 cm, $1,300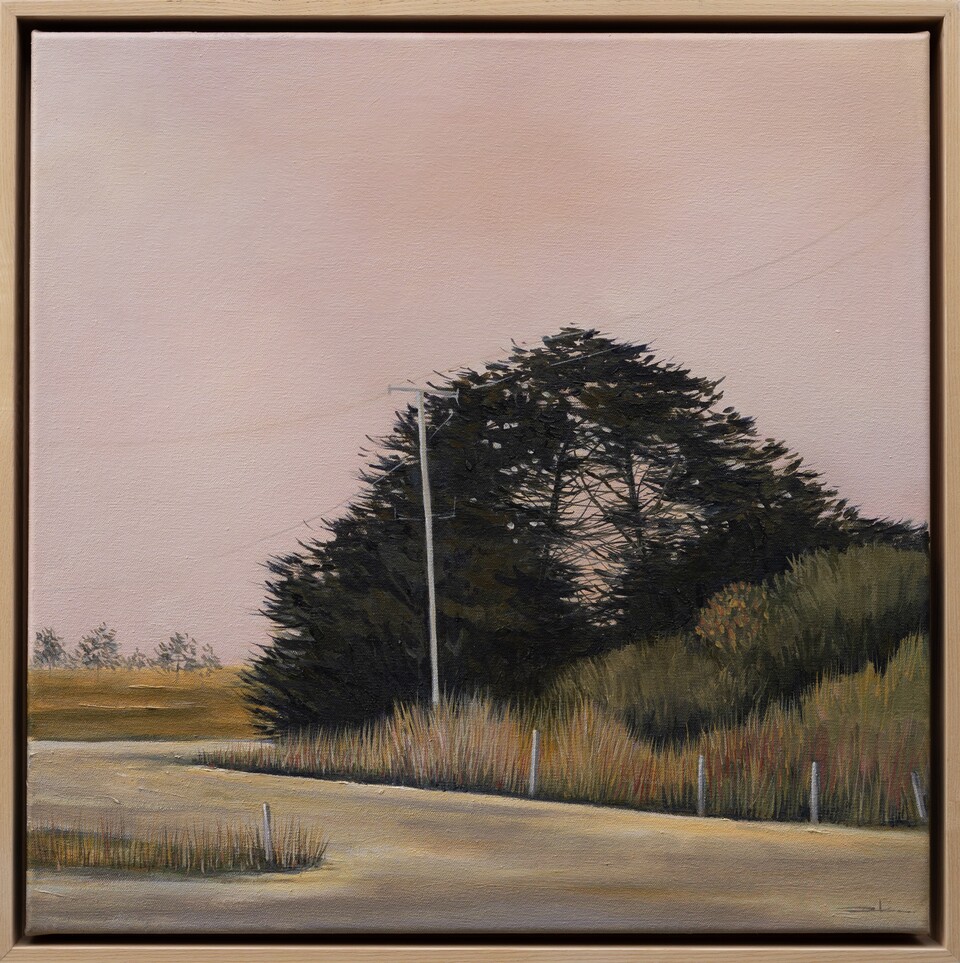 Andrea Kirkham-Hopgood, McMeikans Cnr, oil on canvas, 54 x 54 cm, $1,200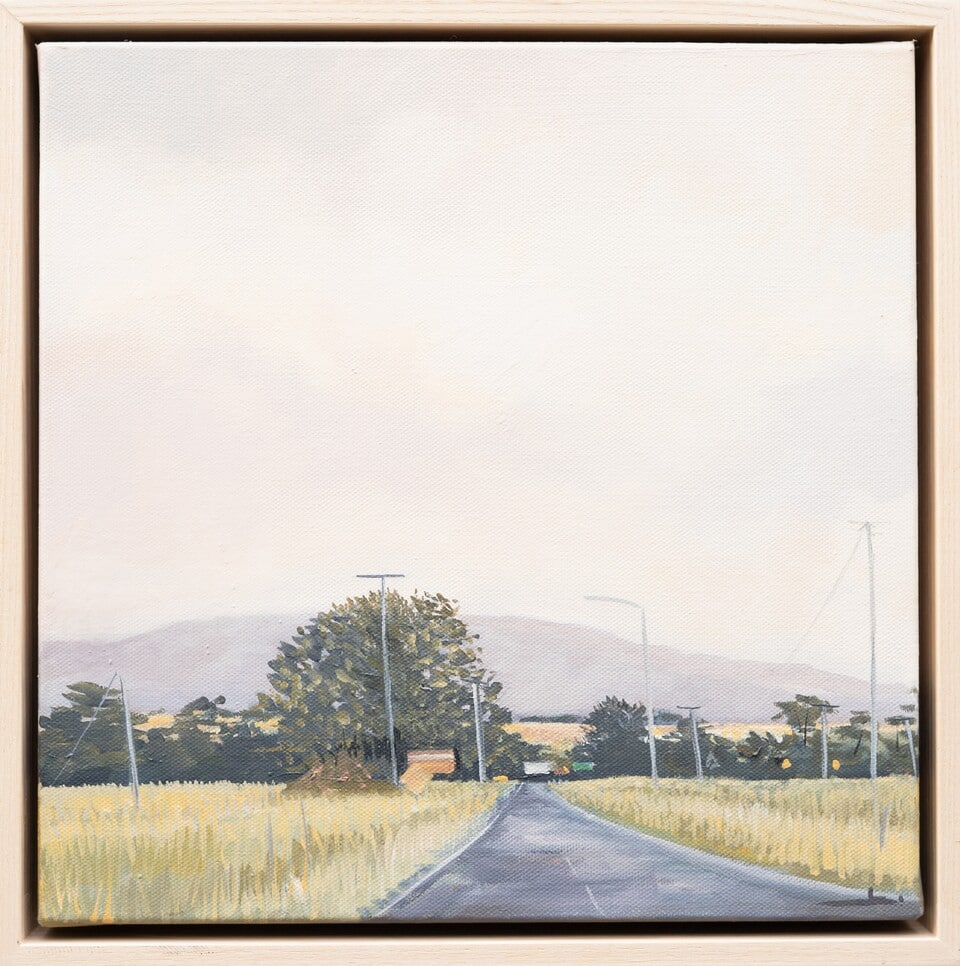 Andrea Kirkham-Hopgood, Melba Hwy Cnr, oil on canvas, 34 x 34 cm, $600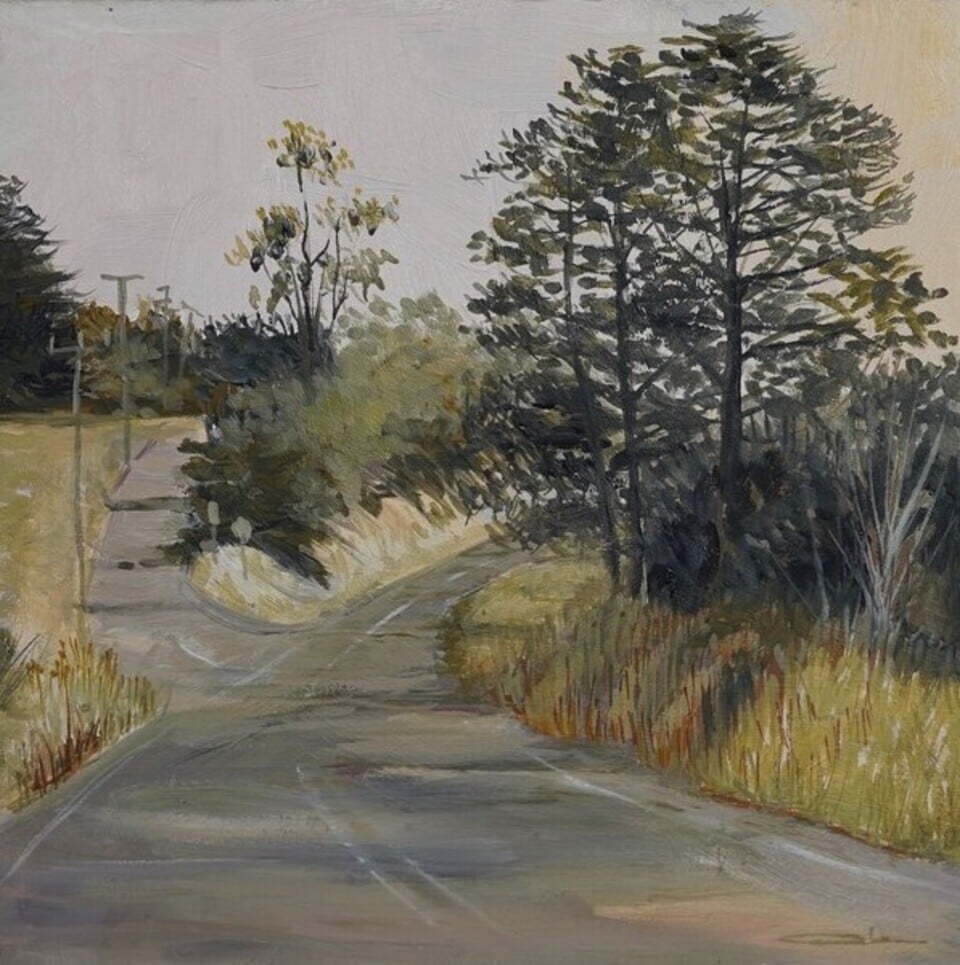 Andrea Kirkham-Hopgood, Dixon's Creek, oil on board, 23 x 23 cm, $400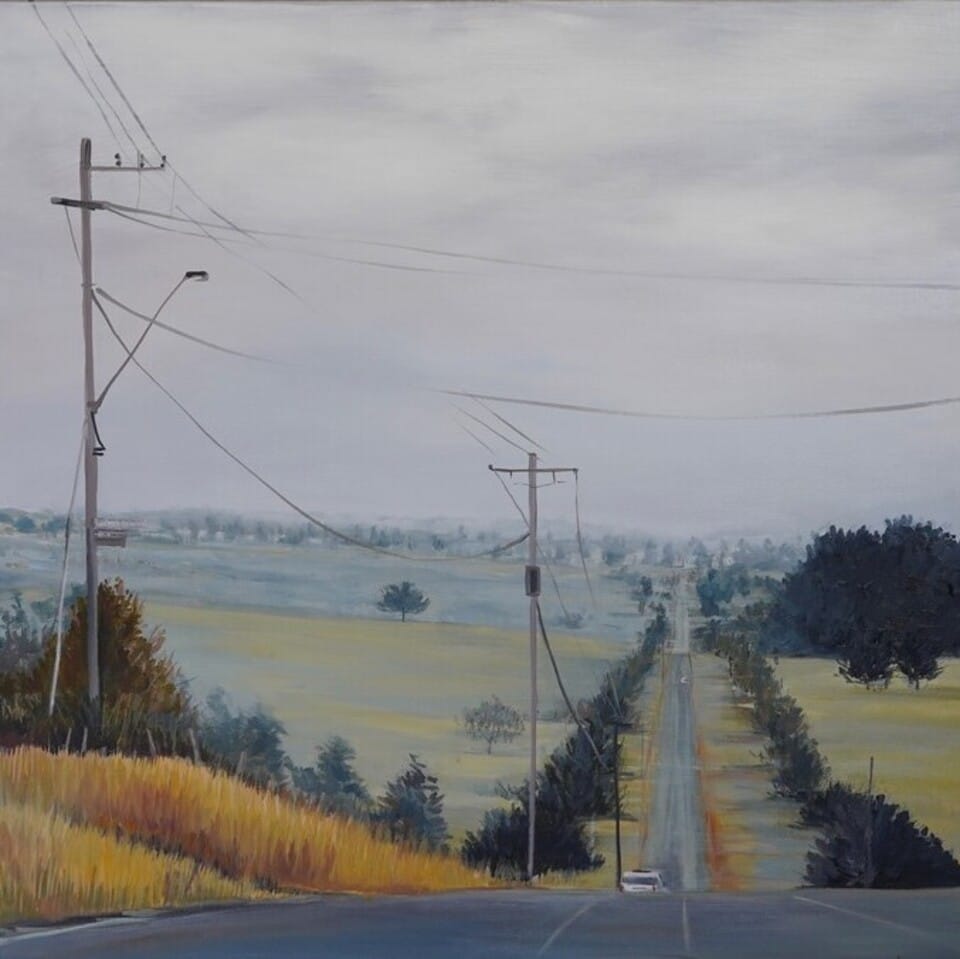 Andrea Kirkham-Hopgood, Switchback Rd, oil on canvas, 650 x 650 cm, $1,300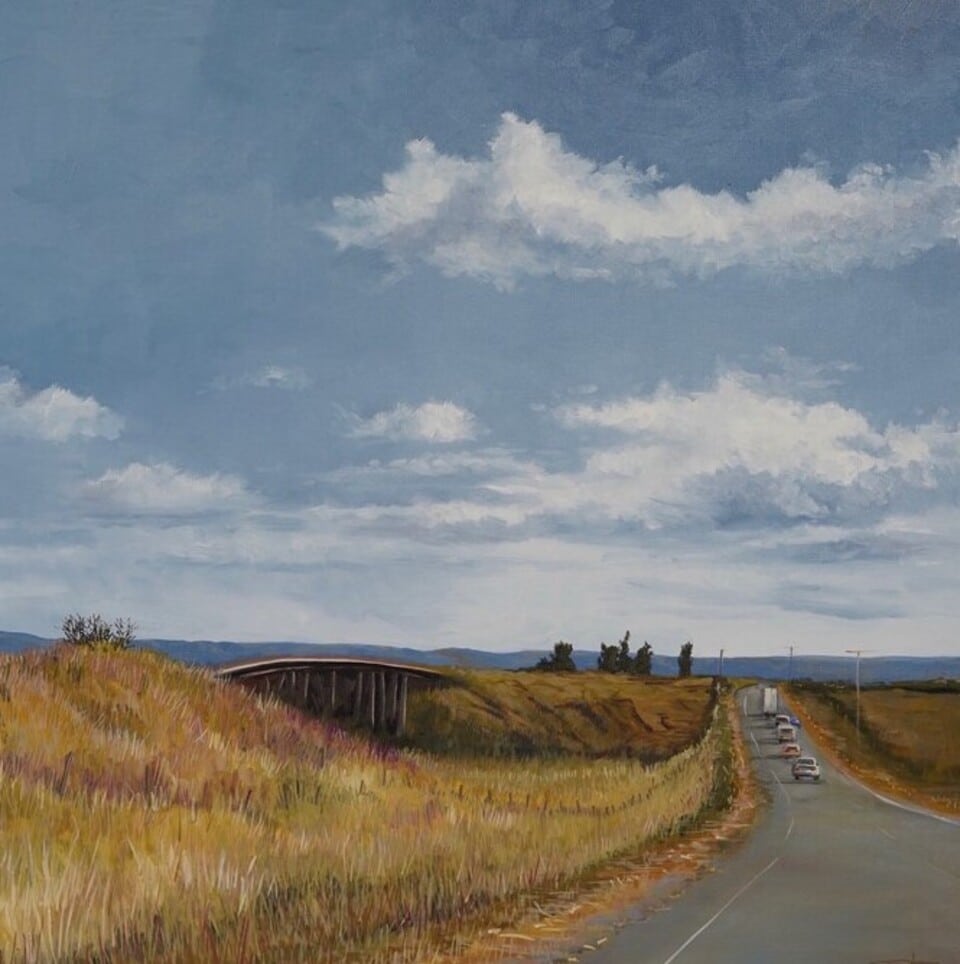 Andrea Kirkham-Hopgood, Yering Bridge, oil on canvas, 650 x 650, cm $1,300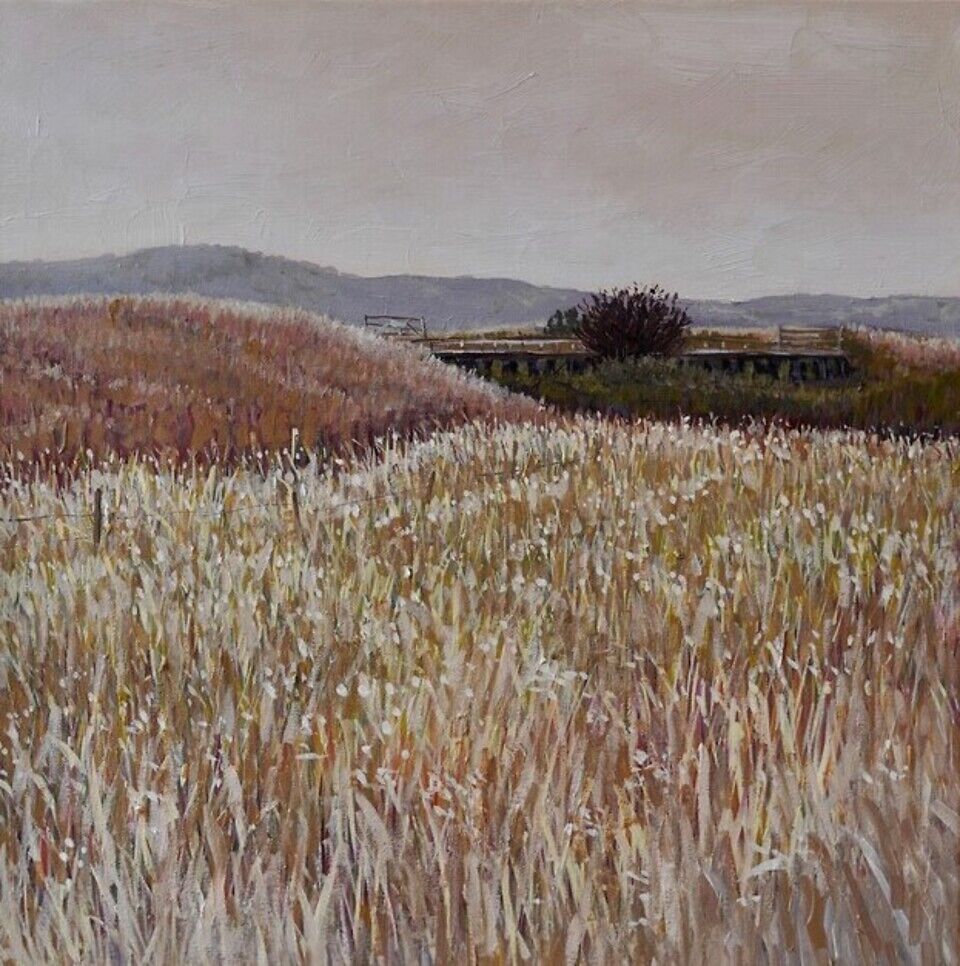 Andrea Kirkham-Hopgood, Yering Roadside, oil on canvas, 435 x 435, $800
Current Exhibition | Online
Scarred SPECIES
RICHARD YOUNG
10 July – 16 August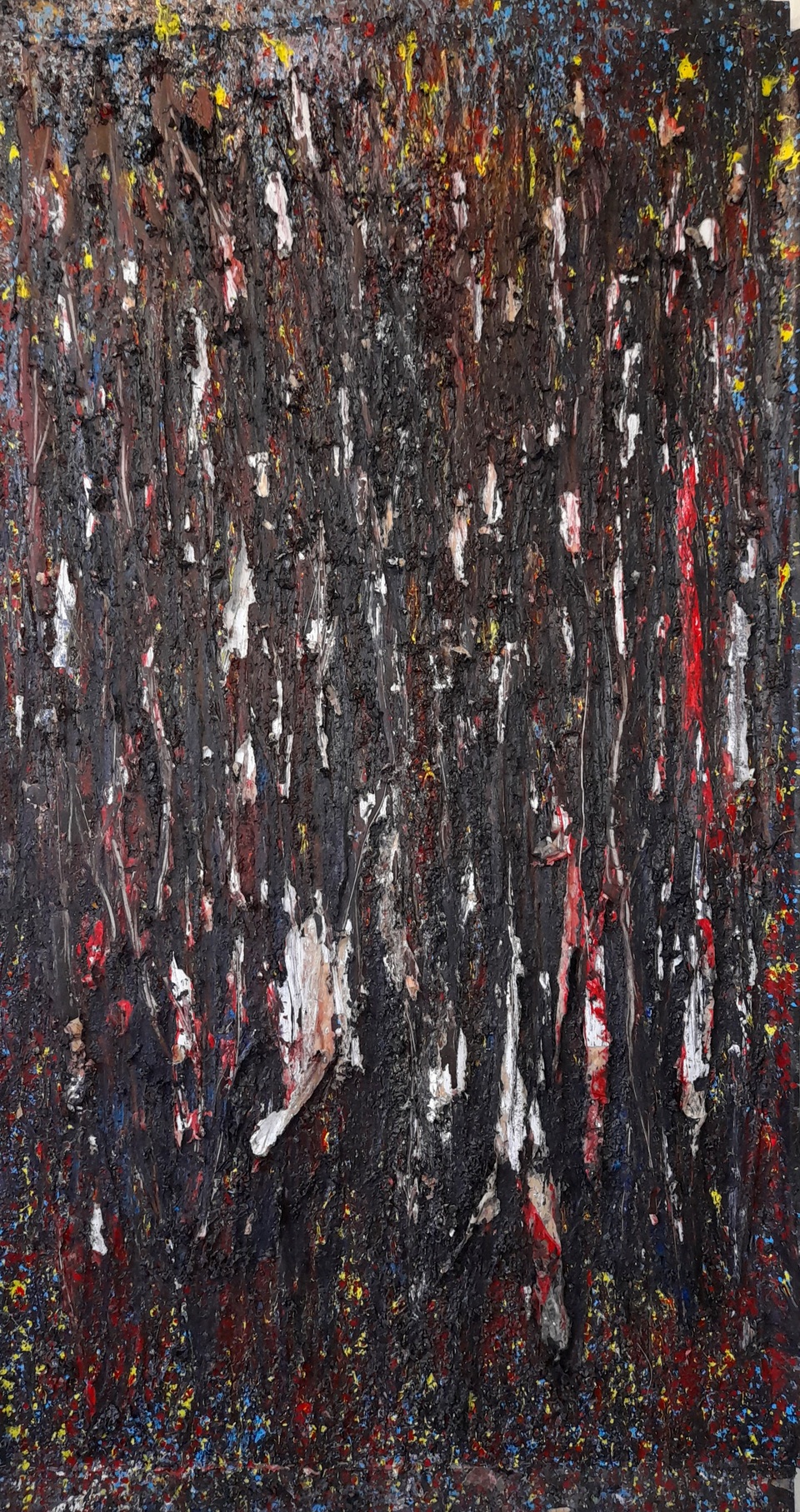 ONE WITH COUNTRY, acrylic and paper on canvas, 224 x 120 cm | $13,000
One with Country is an act of acknowledgement and empathy, a suffering with a scarred people and a scarred country.
This piece reflects the inner soul of Aboriginal people as a manifestation of our lands that have been exploited for their mineral value – blown up, dug into, and torn apart in search of the elusive resources driving economic gain and development. You will hear Aboriginal people talk about how as a people we are sick because our land is sick. This is part of being one with country. Consider the bark of a tree. If taken off carefully and with respect, the tree will survive, and you have the material for a canoe, which has a purpose and can sustain life. At the end of creating this piece, and while meditating on the spirit flowing from it, all I could think of were the words: 'Oh wretched man am I.' But the great thing about the land is even after it has been exposed to major disasters such as fires, floods and droughts, it regenerates every time, and so do we as a people. | Richard Young, 2021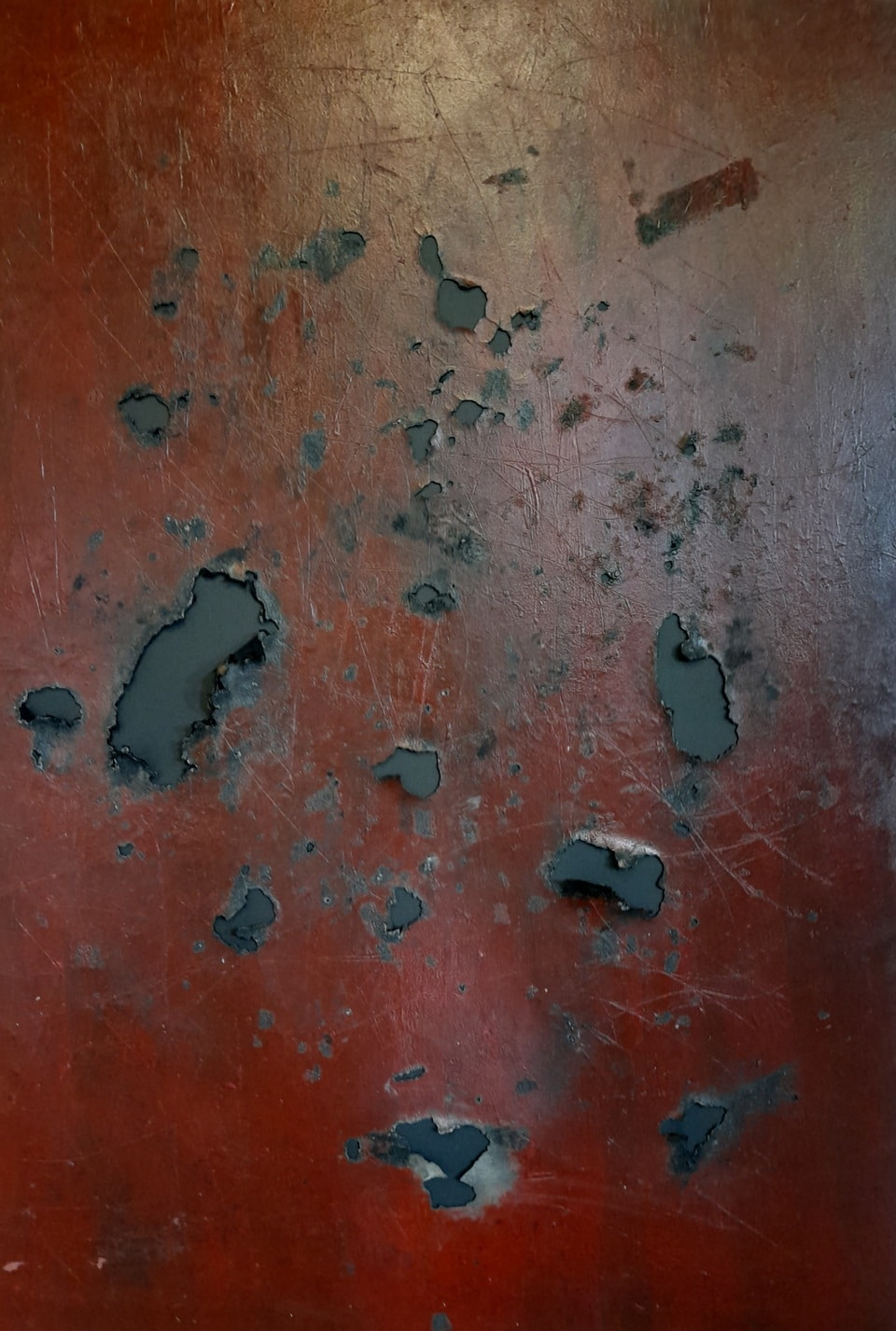 BURNING OFF, acrylic on canvas, 198 x 137 cm | $13,000
Burning Off captures the blistering heat of regeneration by fire.
After painting each Scarred dimension, I knew I needed to paint the healing as a process, and one of the stages of healing is Burning Off. Just as the land needs burning off to replenish the earth, we need to burn off old ways of thinking. When you watch the smoke go up into the sky, does it stick around forever? Of course not. So when you let go of old thoughts or ways, past memories, pains, etc., let them go. Let them dissipate in the air. I remember watching a documentary on the Warlpiri (NT) who followed their Water Songline. They would watch the birds fly, and if they hovered at a certain height, the Warlpiri would light fires to create smoke, which subsequently created rain to replenish the earth and fill their waterholes. So for me each burnt area is a reminder of key events along the journey of life, burnt areas in need of living water. | Richard Young, 2021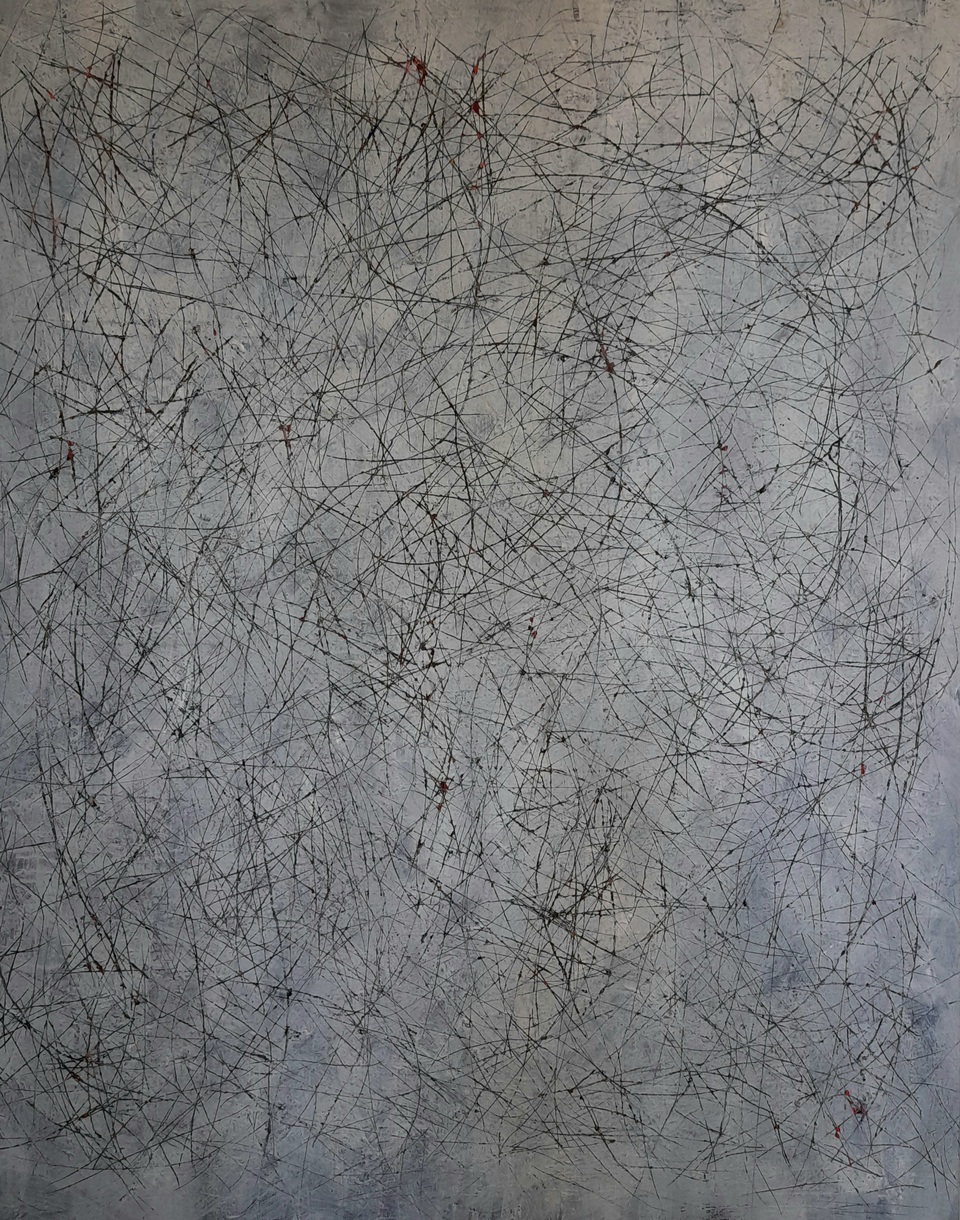 SCARRED MIND, acrylic on canvas, 172 x 137 cm | $10,400
Scarred Mind depicts the scars of traumas past etched into the intellectual plane of a bruised blue sky.
When I typed 'What is a scarred mind?' into Google, Wikipedia offered up a definition of psychological trauma. 'Psychological trauma is damage to a person's mind as a result of one or more events that cause overwhelming amounts of stress that exceed the person's ability to cope or integrate the emotions involved, eventually leading to serious, long-term negative consequences.' This definition provides insights into what I was feeling as I painted Scarred Mind. Intergenerational Trauma can be passed on through parenting practices, behavioural problems, violence, substance abuse and mental health issues. All of this pretty much sums up what a scarred mind is for me. If you painted a timeline of events in this country to depict the impact of government policies on Aboriginal people, what would you paint? | Richard Young, 2021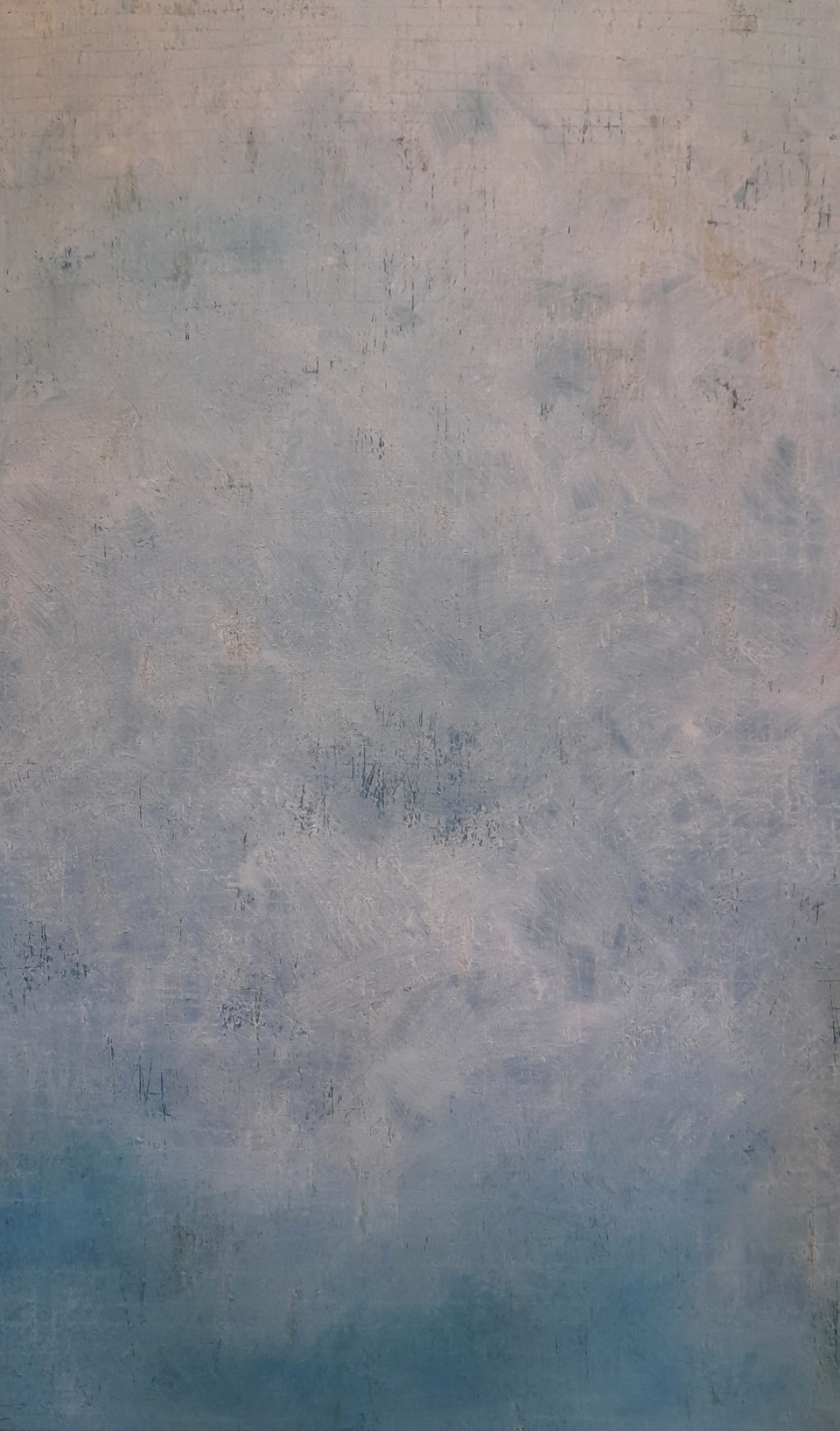 IMMERSION, acrylic on canvas, 168 x 97 cm | $5,200
Immersion refers to age old hydropathic techniques as well as referencing acts of spiritual rebirth. It points to physical and spiritual healing and transformation.
Immersion is another stage of the healing process. After physical exertion, athletes have ice baths, a hydrotherapy to help the body's restorative processes heal their bodies more rapidly. Wim Hof says that because we wear clothes and artificially control temperatures at home and work, we've greatly reduced the natural stimulation of our bodies, atrophying the age old mechanisms related to our survival and basic function. The deeper physiological mechanisms are no longer triggered. Our bodies are no longer in touch with this inner power. This piece its about immersing yourself fully in the fresh cold waters of the snowy river or the ocean and allowing the cleansing waters to flow all over you. | Richard Young, 2021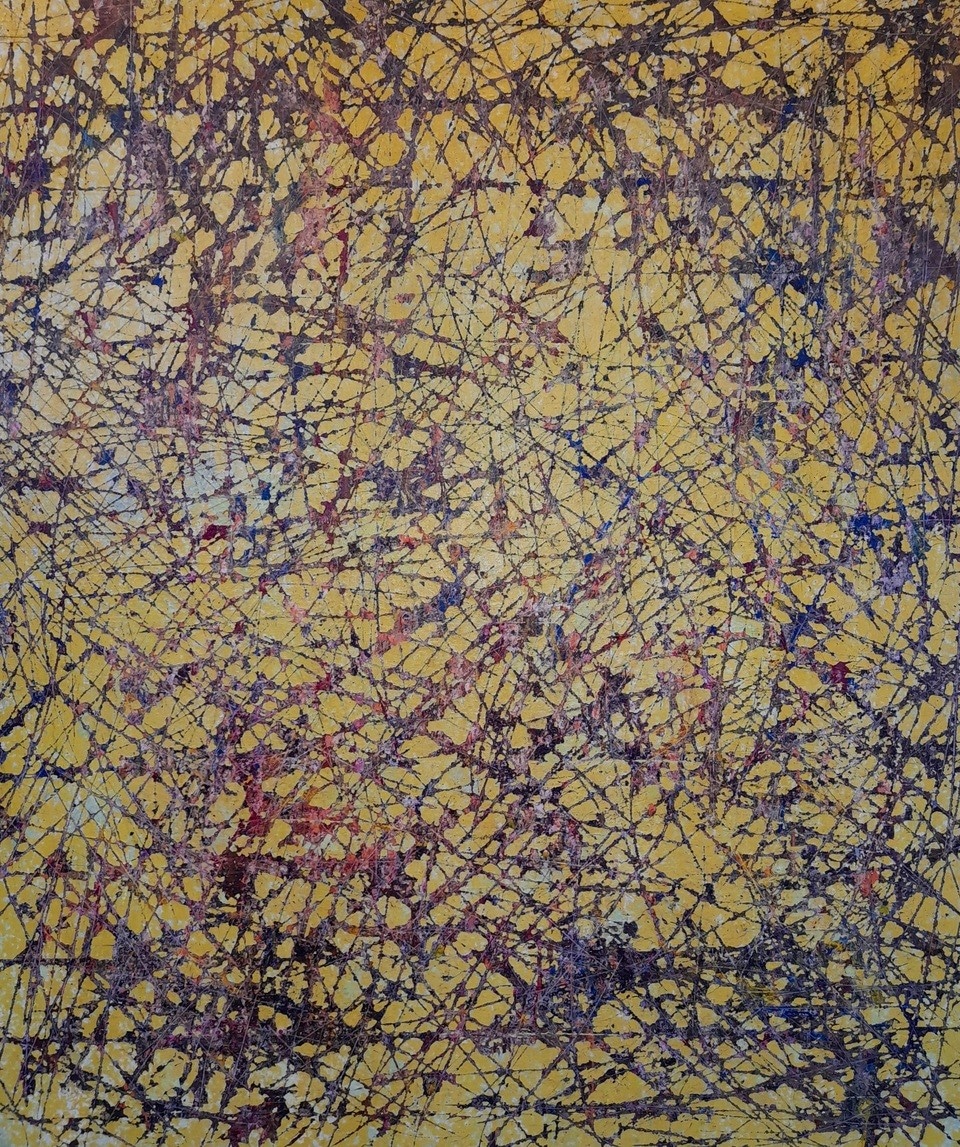 TRANSFORMED MIND, acrylic on canvas, 172 x 137 cm | Sold
In Transformed Mind life and colour bloom along the tracery of traumas past.
Be not conformed to this world but be ye transformed by the renewing of the mind. Romans 12:2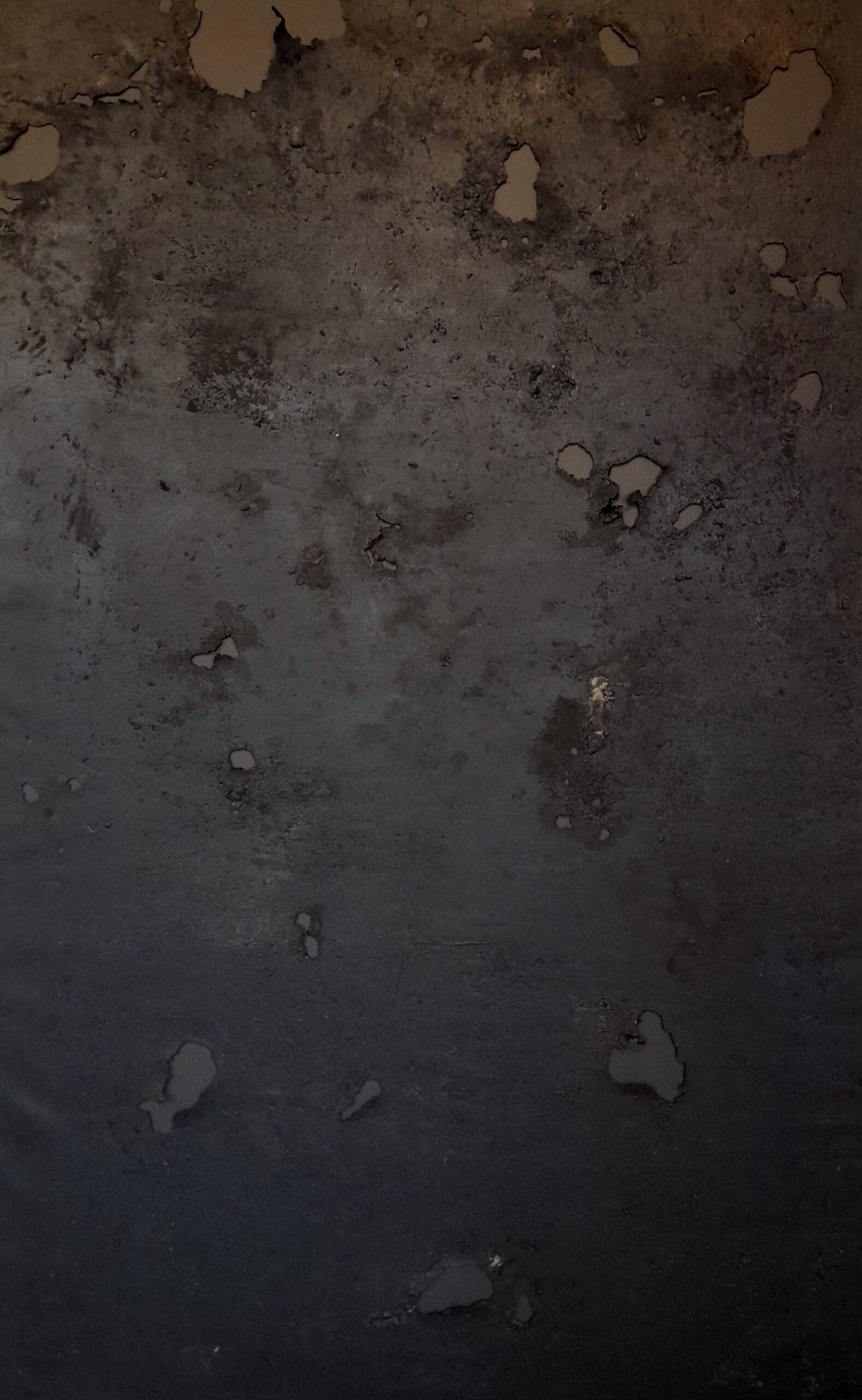 SCARS AND ALL, acrylic on canvas, 198 x 121.5 cm | Sold
A work that speaks of accepting ourselves and each other Scars and All.
What do you do when you have nowhere else to go? You have burnt all your bridges, destroyed the relationships you treasured, and lost the love and trust of everyone you respected. What do you say to someone when they are in this situation? If you have ever asked this question this painting will resonate with you. Forgiving another person for the hurt they did is extremely hard, and forgiving oneself can be harder, but at the end of the day it is a decision that is within our power to make. Scars and All is a dialogue and a process. As my darling wife says: 'Healing is not a destination. It's a journey.' Coming through the fires of life always leaves scars, whether physically, emotionally or intellectually. What l do know is that most people just want to feel, know and experience that they are worthy of love regardless of their past, their appearance, or who they barrack for. | Richard Young, 2021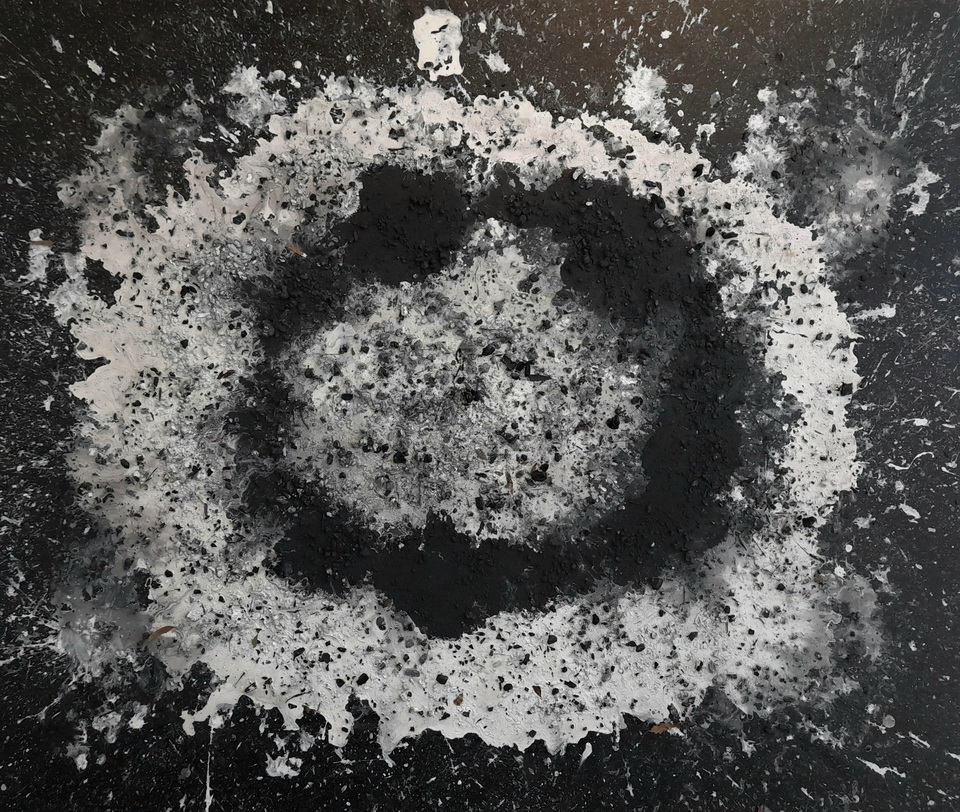 BORRA GROUND – COME AS YOU ARE, acrylic and mixed media on canvas, 167 x 198 cm | $16,250
Upon the Borra Ground, where the seven dimensions of healing meet, you must Come You Are.
Sacred Truth is a difficult stage in the healing process. This is where you come face to face with self. As we say, 'you need to be smoked before you can enter the Borra Ground,' but what does that mean? It means you need to leave the superficial you outside. It means you need to 'come as you really are,' as my mother-in-law would often say. In this piece, I have used the leftover coal from other paintings, coal which symbolises working through the past at the Borra Ground. The sanctification process of healing from our past requires everyone to bring the remnants from their fires, for this is their truth, and to lay it out to witness to their honesty and vulnerability in the healing process. This is relating with our Hearts. | Richard Young, 2021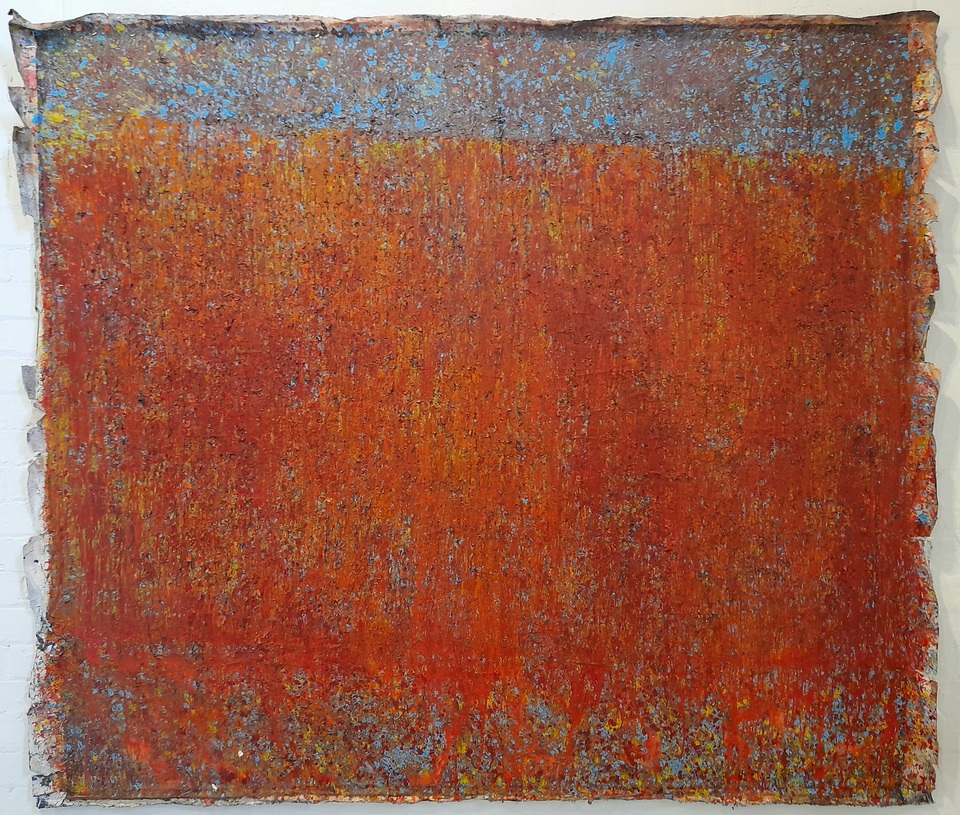 SCARRED LANDSCAPE, acrylic on canvas, 180 x 210 cm | $13,650
Between rain from above and natural aquifers below, even a Scarred Landscape will retain the essence of its beauty.
I attacked this piece physically with a brass iron stoking rod from our fireplace as I wanted to see how the painting would respond. Just like our land does after a fire, it regenerated itself with vigor and vibrancy of colour. I also love this painting's fragility, which reminds us to protect our land's ecology and biodiversity. | Richard Young, 2021
EMPTY WORDS, acrylic and paper on canvas, 183 x 198 cm | $16,250
In the name of economic 'progress' language is sanitised, weaponised, bleached beyond recognition. It rises by degrees, a toxic strata of Empty Words.
When I first thought about working on this piece, I wanted to calculate the economic loss our people have suffered/lost based on accumulated wealth accrued over the past 200+ years, factoring in compounding interest rates of 10% year on year. Given that from 1 January 1971 to 31 December 2020, the average annual compounded rate of return for the S&P 500®, including reinvestment of dividends, was approximately 10.8% (source: www.spglobal.com). Since 1970, the highest 12-month return was 61% (June 1982 through June 1983). And considering that our GDP in 2020 was $2Trillion.
Then I thought what a lot of work and what for? Why go through this process? It was at this point that I recalled the words of my Great Grandfather Shadrach James:
The Australian whites, with justifiable joy and pride boast of their marvellous achievements in countless phases of life amongst their own people. What have they done and what are they doing for the uplift of my people? Do they consider the weekly ration, the annual supply of blankets and clothing an adequate compensation for the inestimable benefits they are daily deriving from this land which by divine right belongs to us. The white man's answer to this is that the civilisation he has introduced has brought to us many compensating advantages. When will the Australians wake up to their national duty, their responsibility and obligation to us? They complain of our ingratitude. We ask when will they pay the debt of gratitude they owe us for the untold gain that has come to them through our irremediable loss? | Shadrach James, 1 May 1929
So instead of working on an equation, I collected up old documents, government strategies, organisational RAP commitments and corporate plans for engaging with and improving the lives and opportunities for our mobs. After pasting them onto the canvas, I started painting key words and phrases of commitments from these documents onto the canvass. It was then I conceived the title of the piece, Empty Words, for that is what I felt. All the promises for self determination and empowerment have always had an ulterior motive.
Governments for 50 years have funded Aboriginal organisations in the not-for-profit sector, while all other groups to their credit have developed commercial for-profit businesses, and the governments wonder why there is a gap? | Richard Young, 2021
XMPT, acrylic and paper on canvas, 157 x 182 cm | $11,050
In XMPT, documents related to Australian state government policies of Indigenous exemption are the bedrock upon which generations of trauma are enacted.
After sitting and listening to an old Uncle in South Australia speak about his experience receiving an Exemption Card and the impact it had on him, I thought bugger this. Many Indigenous people have had their heart ripped out and their identity shamefully trashed, while the only hope of earning money to provide for their family was controlled by governments that mandated that Aboriginal people, if they were to enjoy the rights conferred upon other Australians, would have to be as a white person. This mandate meant denying one's self, one's culture, and even one's own family. XMPT is about XMPTing the Exemption Card mindset, which has foregrounded the ways in which many  people still think today. Many policies today are based on this mandate and the attitudes it fostered. You can hear it in politician's speeches, sometimes subtle and sometimes overt, but still there. | Richard Young, 2021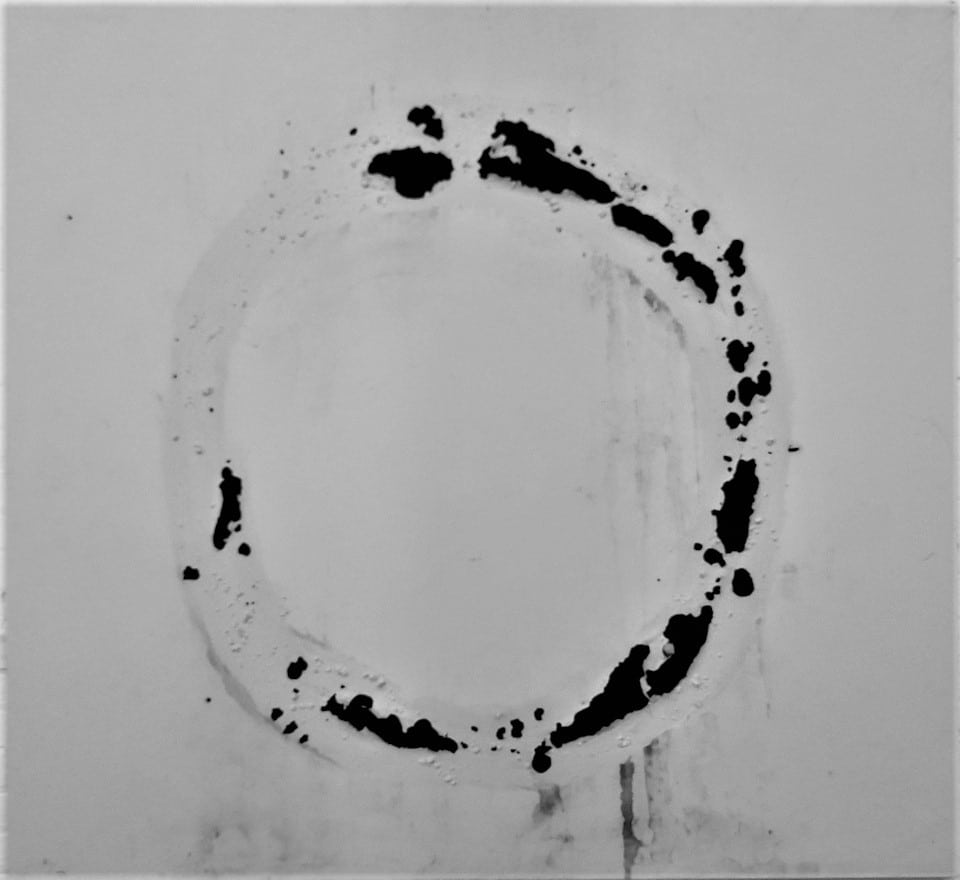 BORRA GROUND, acrylic on canvas, 182 x 198 cm | $16,250
Borra Ground is a symbol of social and spiritual healing. Although burnt and hollow in places, the sacred circle is engaged in an eternal act of regeneration.
Borra Ground is a sacred place for ceremonies. The circle was destroyed due to another culture's lack of appreciation and respect. In this piece I wanted to reflect that many mobs have maintained their cultural and religious practices, and others have appropriated other religious beliefs. The spiritual attitude of WHITEOUSNESS permeates society and stems from the church's attempts to purify and wash the stains off Aboriginal people, as we were seen to be uncivilised and dirty at the time. Our language and ceremonies were considered of the devil and were outlawed. They were replaced by western beliefs, values, norms. | Richard Young, 2021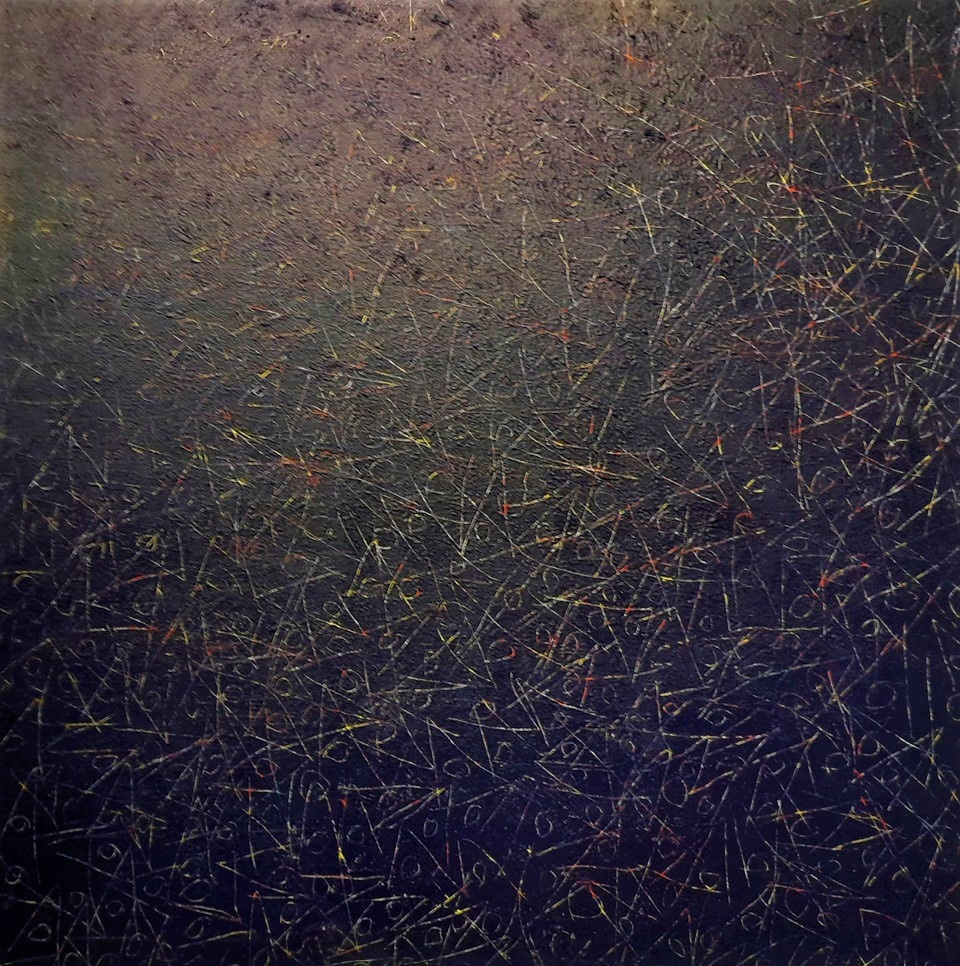 EXILE, acrylic on canvas, 198 x 198 cm | $12,350
Exile depicts mobs of emus endlessly running. Upon a vast plain these wanderers are seeking a home on Country.
My darling wife Judith once observed that we have been put into EXILE in our own land. I thought, yeah, wow, we need to give that more air, and when I finished the cultural piece and was working through the conversation with it, what she said jumped out at me. Here are all these mobs running around lost in a Cultural Exile and searching for their identity, their heritage, their connection to country, and a sense of belonging. | Richard Young, 2021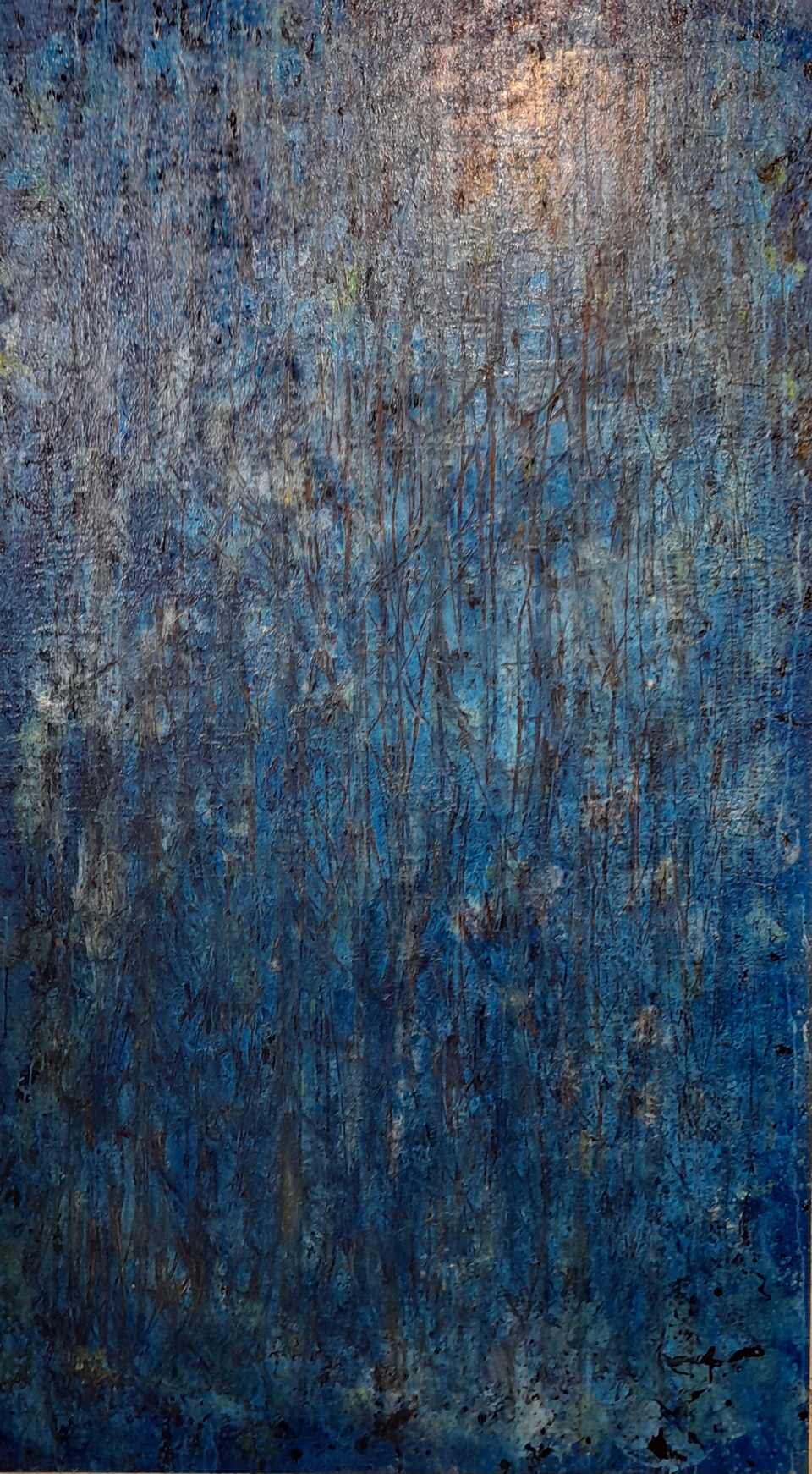 GUNNAI FOREST, acrylic on canvas, 204 x 114 cm | $8,450
A healing journey that begins and ends with the life and light of the Gunnai Forest.
Gunnai Forrest is simply about connecting to the bush. We need to get out of our homes and fill our lungs with fresh air. During the painting process, I was thinking about driving around Gippsland at certain times of the day and year and seeing different types of blues. I hope I managed to capture the beauty of Gippsland in this piece. | Richard Young, 2021
Current Exhibition | Winery Viewing Gallery
A selection of works from The Dance
KATE BAKER | Photography
8 June – 26 September
CAPRICCIO (LA POESIA DELLA DANZA SERIES) Edition 1 of 5, Silver Gelatin Photograph, 70 x 80 cm | $1,800
CADENZA (LA POESIA DELLA DANZA SERIES) Edition 1 of 5, Silver Gelatin Photograph, 78 x 56 cm | $930
DOPPIO MOVIMENTO (LA POESIA DELLA DANZA SERIES) Edition 1 of 15, Silver Gelatin Photograph, 54.5 x 60.5 cm | $780
LIBERO (LA POESIA DELLA DANZA SERIES) Edition 3 of 15, Silver Gelatin Photograph, 62 x 47.5 cm | $780
BARTÓK PIZZICATO (LA POESIA DELLA DANZA SERIES) Edition 1 of 10, Silver Gelatin Photograph, 51 x 62 cm | $780
THE GOLDEN SLAVE (NIJINSKY AND THE ECSTASY OF THE DIVINE SERIES) Edition 1 of 5, Silver Gelatin Photograph, 83 x 83 cm | $1,800
THE YEARNING (NIJINSKY AND THE ECSTASY OF THE DIVINE SERIES) Edition 1 of 5, Silver Gelatin Photograph, 83 x 83 cm | $1,800
LUST (NIJINSKY AND THE ECSTASY OF THE DIVINE SERIES) Edition 2 of 5, Silver Gelatin Photograph, 83 x 83 cm | $1,800
DOUBLE FAUN (NIJINSKY AND THE ECSTASY OF THE DIVINE SERIES) Edition 1/5, Silver Gelatin Photograph, 83 x 83 cm | $1,800
SOSTENUTO (LA POESIA DELLA DANZA SERIES) Edition 1 of 5, Silver Gelatin Photograph, 80 x 78 cm | $1,480
CONTRAPUNTO (LA POESIA DELLA DANZA SERIES) Edition 2 of 15, Silver Gelatin Photograph, 50 x 62 cm | $780